Ultrasonic Testing Lab. NDT Services Since 2001. ASNT Level 3 Experts.
NABL accredited UT Inspection. ultrasonic Thickness Gauging facility. Over 1500+ Customers.
Ultrasonic Inspection Services at NABL Accredited Labs. Modest Pricing. Also, Serves Onsite in Hosur and Mysore at Customer locations.
A vital method for detecting Internal Flaws in Materials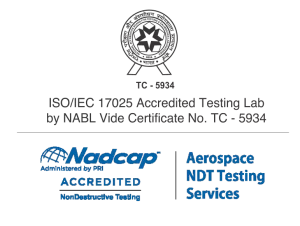 Ultrasonic Testing (UT) is a Nondestructive testing method to detect flaws that are internal in nature. Though it can detect, surface and subsurface flaws using angle beam, due to dead zone, UT is recommended for finding internal flaws such as cracks, shrinkage, blow holes, lack of fusion, slag inclusions etc.,. The method is suitable for testing castings, forgings, plates and welds. Metals and nonmetals such as ceramics, plastics, composites are also candidates for this method. Virtually any material that conducts ultrasonic sound can be tested.
UT testing method uses high frequency sound waves that are above 20KHz. For mechanical applications, materials are usually in the range of
500kHz to 10MHz. For critical aircraft and space applications, frequencies starting from 10MHz up to 25MHz are commonly used.
UT of Castings, Forgings, Plates & Welds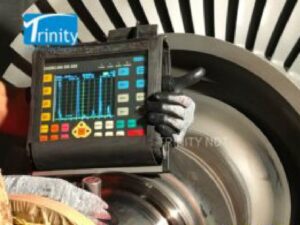 Ultrasonic inspection is effectively detects anomalies in Ingots, castings, forgings, rolled plates and welds. UT can also be suitable for testing raw materials, in process and finished materials. It is the preferred method for detecting internal flaws during in-service inspection of plants. That is to say, this can detect fatigue cracks, measure wall thickness and estimate quantum of corrosion damages on shafts, gears and pipelines.
In addition, digital Ultrasonic thickness measurement gives wall thickness of boiler pipes, tubes, tanks, pressure vessels and chimneys. Though thickness can also measured using flaw detectors, but accuracy cannot match to the digital thickness gauges. Therefore, digital ultrasonic thickness gauges are preferred and can measure up to an accuracy of 0.001mm under certain conditions.
Ultrasonic method cannot detect cracks and other defects which are parallel to the beam direction. Therefore, it cannot detect cracks originated from surface. For such cracks, surface methods such as Dye penetrant, magnetic particle or eddy current are recommended.
Are you looking for UT inspection or thickness measuring services in Bangalore, Hosur or Mysore? Then, Trinity NDT Labs are at your service. Have a query? Call or live Whats app us now.
Facility in Peenya, bangalore. Serving in Hosur and Mysore.
Our Ultrasonic testing central Labs are located near to you at Peenya Industrial Hub in Bangalore. The best UT inspection labs in India are serving over 1500+ clients in Hosur and Mysore as well. UT Labs are NABL accredited for both testing at onsite and permanent facility as per ISO17025:2017 for castings, forgings, plates, welds and composites. Also, quality management systems(QMS) are ISO9001:2015 certified to assure the customers the best practices that are being followed at the center.
Fast response UT testing teams will deliver the services within just few hours from time of inquiry over phone or email. Well experienced Level 2 technicians for scanning the materials and evaluation of results. In house ASNT Level 3 experts for procedure approval and techniques establishing for various jobs. Above all, experience the speed of our ultrasonic services like never before.
ISO17025:2017 NABL Accredited Center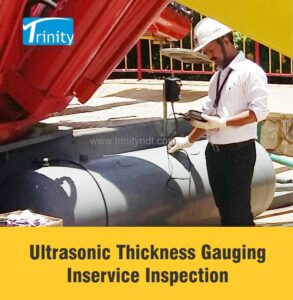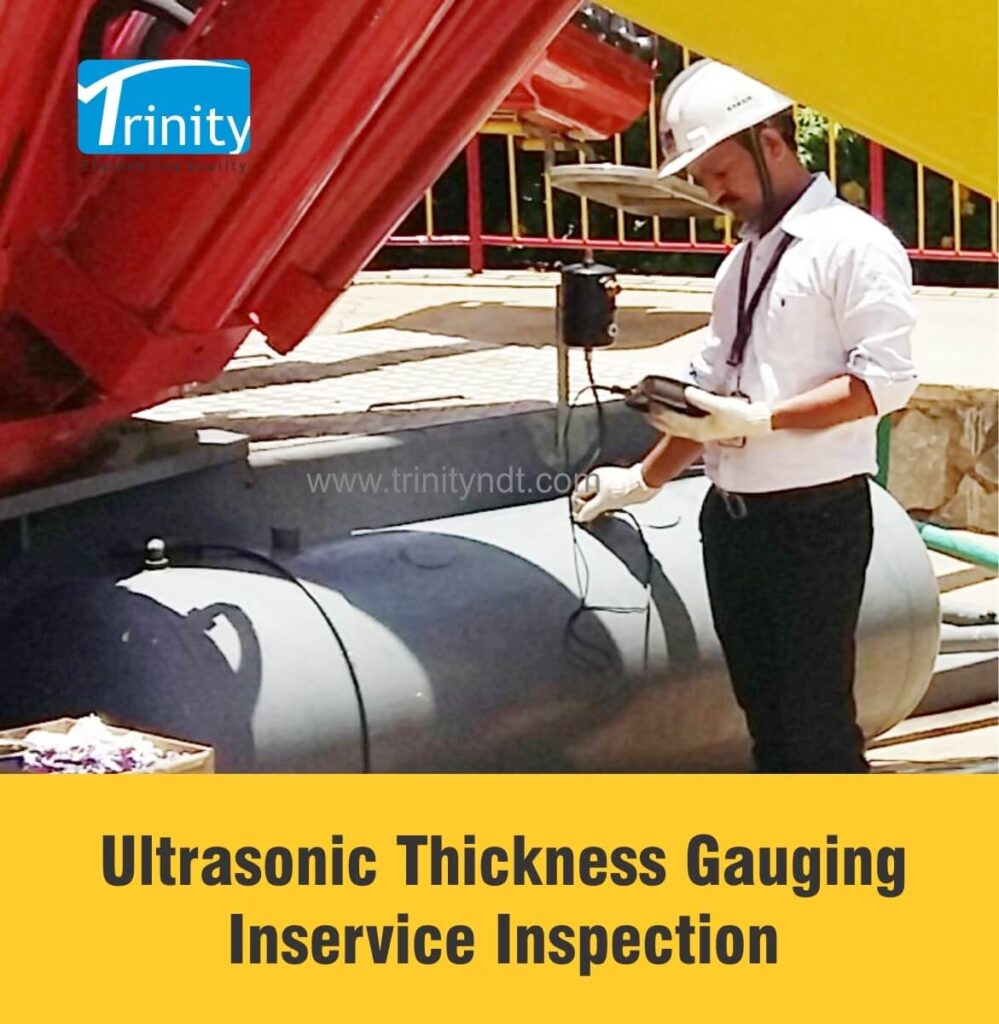 Ultrasonic testing center is NABL accredited as per ISO17025:2017. Our scope of accreditation covers various techniques. Also, fully equipped to provide you, dry scan UT testing for aerospace composite materials. Visit our Aerospace NDT Labs in Bengaluru, India today.
Quality of services depends on quality of UT machines and skills of inspectors. Therefore, inspection labs have complete range of equipment, probes, cables and calibration blocks. We use equipment that meets standards such as ASME, ASTM, BS, EN and ISO. On the other hand, DAC (Distance Amplitude Correction) and DGS (Distance, Gain, Size or sensitivity) features for flaw sizing. Dry scan UT testing is an inspection technique for aerospace composite materials. Also, we are in the process of adding immersion ultrasonic testing technique.
Know more about our NABL accreditation and scope of testing for Ultrasonic testing service. Free Download NABL ISO17025:2017 certificate and Scope.
Certified and Experienced NDT Level 2 Technicians and ASNT Level 3 Inhouse Experts. Trusted UT Services.
Quality of services depends skills of UT technicians. Therefore, we engage ONLY experienced Level II engineers. Also, Ultrasonic testing labs are closely monitored by in-house ASNT NDT Level III expert. Therefore, before each testing, he reviews technique adequacy and issues proper guidance for following Ultrasonic testing procedures. Every UT Level II technician will undergo proper training with our training division 'Trinity Institute of NDT technology before engaging on job.
We also have exposure to Ultrasonic testing of critical welds. It is common to use, normal beam probes for base metal and angle beams for welds scanning. SDH blocks helps to draw DAC for angle beam. Rely on our services for inspection of Plates, castings and forgings as per ASTM, ISO and BS EN standards.
You can also use our NDT Level III consulting services such as preparing Ultrasonic test procedures. Contact us.
Independent Labs. 1500+ satisfied Customers in India.
An independent NDT agency for Ultrasonic testing in Bangalore. Accessible services from anywhere in India. Also served, customers in Mangalore, Goa and Belgaum. Based on request, extending ultrasonic testing services for casting foundries in Vijayawada, Vizag and Hyderabad. UT Level 2, 3 inspectors are stationed near to you for quick services at Peenya, Hosur and Mysore.
Portable A-scan UT equipment available for onsite testing. B-scan provides cross sectional and C-scan plan view. Techniques include normal, angle beam and immersion testing. UT testing using DAC, DGS, TCG (Time Corrected Gain) and dry scan for inspection of aerospace composites.
Ultrasonic inspection of stainless steel is not easy due to inherent coarse grains and non-homogeneous structure. Therefore, probes with low frequency and larger diameter can yield better penetration to test stainless steels. We use high penetration methods for UT testing of stainless steels.
To ensure reliable test results, UT equipment should undergo calibration on daily basis. In house NDT Level III approves Ultrasonic procedures and also selects acceptance criteria. Can also use, customer specific UT procedures. As a result, our Ultrasonic testing labs at Bangalore have complete range of NDT inspection services.
Professionals in Welding Ultrasonic Inspection
Butt Weld joints are suitable candidates for Ultrasonic testing. Shear wave, angle beam can detect lack of fusion, lack of penetration, slag, pinholes and other subsurface deep lying flaws in weldments. Initially all welds and surfaces up to probe travel are cleaned. Skip distance and beam path distance are calculated using formulae. Do the scanning as per scan plan. Record, interpret and evaluate the weld for acceptance.
A team of NDT Level 2 technicians have all the skills needed for weld inspections. Experience in performing test under third party inspection. An NDT Level 3 from ASNT, for approving the results. Therefore, customers and third party agencies prefer us for our expertise in Weld Ultrasonic inspection as per ASME, AWS, EN and ISO codes and standards. Check the UT procedure and free download.
Aerospace Composite materials Dry Scanning Facility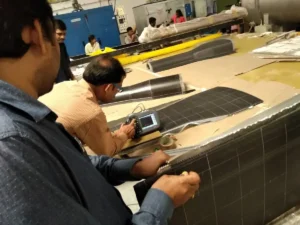 Ultrasonic Inspection of aerospace materials is vital for ensuring quality. It is quite common that, UT testing of Aluminium, Magnesium and Titanium components detects cracks and other anomalies. Level II technicians are trained to perform inspection of composite materials and metallic structures for Aerospace. Dry scan ultrasonic inspection is a reliable method of testing composites.
Special equipment is used for UT testing of composites. Dry scan technique is preferred for flaw detection. Ultrasonic wave can penetrate and can even find presence of foreign materials. The most common defects found using ultrasonic techniques are De-laminations, voids, inclusions and cracks. Through transmission technique is a proven choice for scanning of aerospace composites. Range of calibration samples made of composites with artificial flaws are available at the center to set the UT equipment.
In conclusion, the labs have full facility for UT of metals and composites. In addition, we have FPI testing, Eddy Current testing , MPI testing and Radiography X-ray labs.
International Codes and Standards for Ultrasonic Testing
Ultrasonic testing codes and Standards for common usage at center. Customers can choose any of the following based on the requirement. You can also use our ASNT Level III consultant services for establishing UT procedures and acceptance standard.
ASTM E 114 for Straight Beam UT testing
ASME Section V – Nondestructive Evaluation
ASTM A388 – Ultrasonic inspection of Heavy steel forgings
ASTM A609 – UT testing of Castings
AWS D1.1 – Structural Welding code, steel. Download free UT procedure.
ASTM E435 – Ultrasonic testing of steel plates using straight beam examination
ASTM A577 – UT testing of plates for special applications
AWS D1.2 – Structural Welding Code, Aluminium
ASTM A578 – Angle beam Ultrasonic testing of steel plates
ISO 11666 – Ultrasonic testing – Acceptance levels
ISO17640 – Nondestructive testing of Welds
Onsite Ultrasonic Thickness Gauging of Tubes, Pipes & Chimney Walls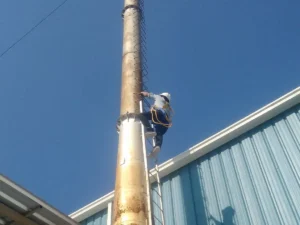 Ultrasonic thickness testing is an effective NDT method to measure wall thickness of pipes, tubes, boiler components and chimneys. UT machines measures wall thickness with greatest amount of accuracy. Digital Thickness gauging machines available with accuracy upto 0.1mm or even less. Probes for highly absorptive materials employ low frequencies and larger diameters.
Although probes are suitable for room temperature, probes available for even high temperature boiler and heat exchanger tubes during in-service maintenance inspection. Special high temperature couplant serves the purpose. For example, Silicone grease is suitable for elevated temperatures. Learn and get certified in Ultrasonic thickness gauging.
Boiler Inspector (IBR) Approved Services for UT testing
Though there many applications that use Ultrasonic principles, flaw detection, thickness gauging are prominent. Also ultrasonic principles have applications in cleaning, welding and material testing using high frequency probes. Other applications of includes,
Castings to detect shrinkage and internal defects
Forgings and Plates
Weld joints
Oil and Gas Pipelines
Tanks and Pressure vessels
In-service inspection plants and structures.
Wall thickness measurement using Digital Ultrasonic Gauge
There may be flaws in the raw materials, may result from fabrication and heat treatment, or may occur in service from fatigue, corrosion or other causes.
Detects internal defects
Measure depth of flaws
Accurate Flaw sizing
One side access using pulse echo technique
Pre-cleaning not as important as for other methods
Suitable for Metals and nonmetals
High speed of testing and fits for automation
No safety hazards
Suitable for much more than flaw detection
Portable equipment available for onsite inspections
Enrol for UT Level I, II training with us.