Training Course on Ultrasonic Thickness Gauging - UTG
Become an Ultrasonic Thickness Gauging Expert. UTG Level II Course and Certification
Ultrasonic Thickness Testing Level II Certification Course. Master Industry-recognized training program.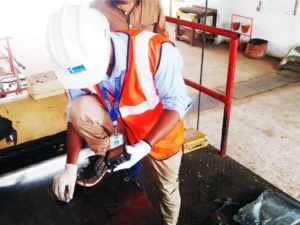 About Ultrasonic Thickness Gauging(UTG) Level II program at Trinity NDT in India
Ultrasonic thickness Gauging using high frequency sound waves is used for inspection of pipes, tubes and chimneys. Engineering pipes and structures after erection, needed to measure thickness for corrosion and wall thinning. Monitoring wall thickness of pipes and tubes is crucial to detect the effects of corrosion on boiler pipes and heat exchanger tubes. It also helps in estimating the remaining life of structures.
This limited certification course on 'Ultrasonic thickness gauging(UTG) Level II' gives comprehensive training on principles and knowledge of high frequency sound waves. Objective of this program is to perform thickness gauging according to an NDT (UTG) testing procedure. This technique is usually performed under the supervision of a level II or level III (ASNT SNT TC 1A or ISO9712) personnel.
ASME/ASTM/ISO and IBR Codes and standards mandates limited UTG Level II certification of personnel to carry thickness gauging. This course is especially designed to provide a sound knowledge and practical skills for carrying out inspection onsite and interpret the examination results.
UTG Level II Certification as per ASNT SNT TC 1A
Trinity Institute of NDT Technology – A training centre of Trinity NDT, Bangalore in India is organizing Ultrasonic thickness testing (UTG) Level II. The courses are held at our center in Peenya Industrial area, Bangalore. Training outline will be as per The American Society for Nondestructive testing (ASNT) SNT TC 1A. A certified Level 3 in Ultrasonic testing will be delivering the complete training modules.
To carryout operation as per Ultrasonic thickness inspection written procedure/instruction from Level II personnel. He shall be able to set up the Ultrasonic thickness gauging equipment, calibrate and carryout the thickness tests, classify and report the results. He shall be responsible for the choice of the UTG technique and assessment of the thickness survey test results.
Training Schedules and Fee details
Trinity Institute of NDT Technology, is organizing UTG Level II programs in both online and offline mode.Trainees can opt for any mode of learning.
Check Level 2 UTG course calendar and Fee structure. Method wise and multiple method fee structure is available upon request on what's app. Text us now and get the instant reply with complete training details.
Ultrasonic thickness Testing Course Outline
Introduction to Ultrasonic Inspection
Ultrasonic thickness test Fundamentals
Ultrasonic UTG Transducers
UT Longitudinal Waves
Interfaces
Effects of Test part Geometry
Pulse-Echo Test Set up
Couplants and Techniques
Ultrasonic gauge Instrumentation
Thickness Measurement practical
Practical Training for Certification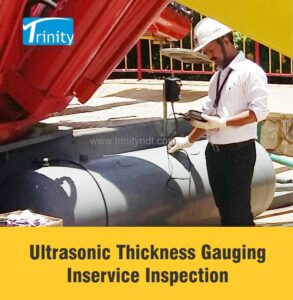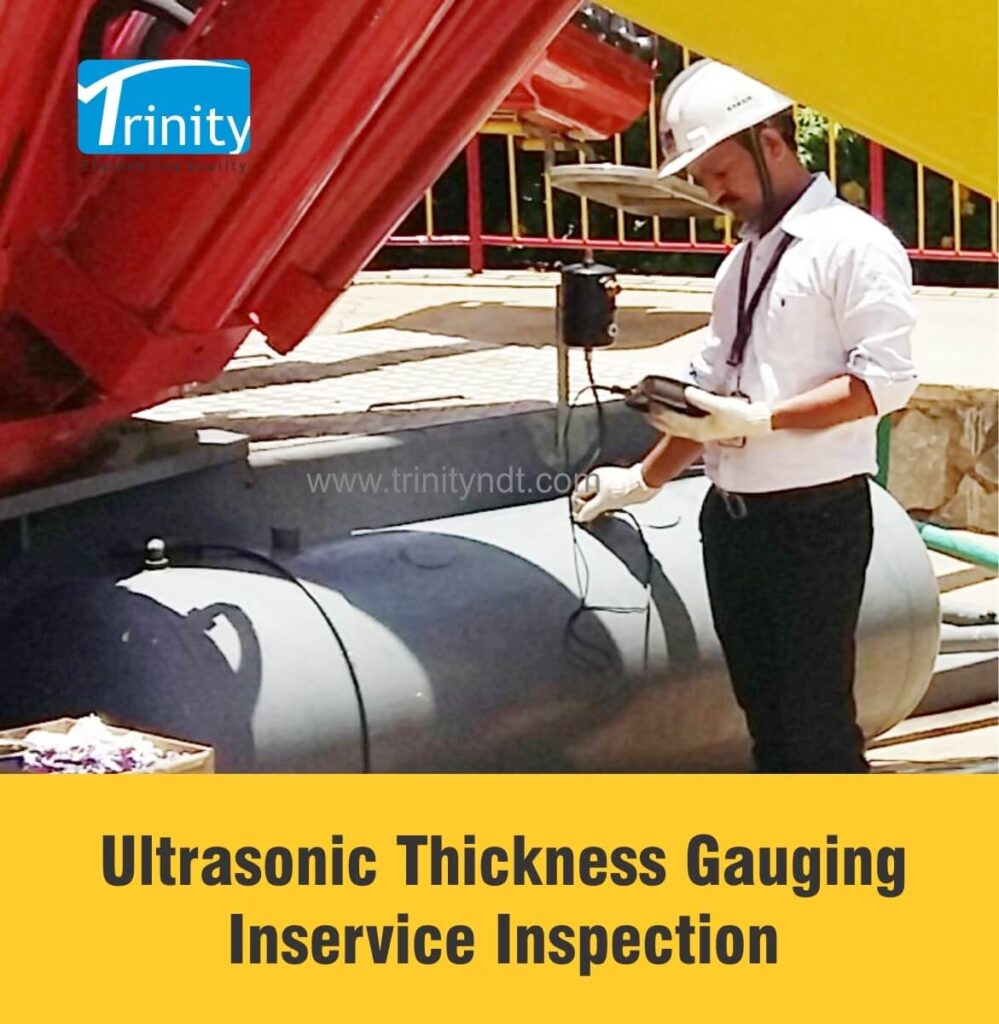 Ultrasonic thickness Gauging (UTG) Level II course includes measuring wall thickness of boiler pipes, tubes, hollow machined components, castings, plates and chimneys.
Also in-service inspection using UT thickness gauge for pressure vessels and corroded pipes. Every Ultrasonic thickness gauging certification course is embedded with practice under ASNT Level 3 trainers.
NABL ISO17025:2017 Accredited NDT Center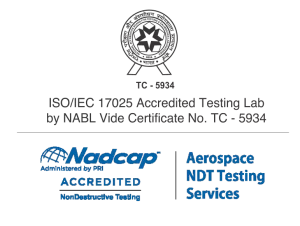 Trinity NDT – Testing Services Labs are NABL ISO17025 accredited. Practical training is held at our labs in Peenya Industrial Area, Bengaluru.
The testing Labs have facility for
NAS410 Level III Consulting service on following for Aerospace NDT testing
Our Other NDT & Welding Inspection Courses