NDT Jobs Vacancies at Trinity NDT, Bangalore & Clients in India
Work with India's Best 10th Ranked Top Performing MSME by ET Rise Awards 2021
Careers - Job Vacancies at Trinity NDT Testing Labs in Bengaluru
Trinity NDT is one of the leading materials testing laboratory & NDT inspection, Training & Certification, Consulting services organization in India. It is the right place for material testing and challenging NDT job seekers. At Trinity NDT we believe in 'Knowledge is power', 'Work is worship'. Founded by experienced eminent professionals, the organization boasts of its growing reputation Nationally & Internationally.
Candidates with the right qualification, experience, professional knowledge, hard work and commitment towards work with right aptitude can join our team. Conductive environment for learning and executing the work culture with enjoyment are important advantages and key factors for the work force.
We recruit quality man power for our entire job openings and are committed to provide timely and complete satisfaction in our services to the clients. We also provide our quality man power recruitment services to the clients in need. Our team of recruiters work on specific client requirements for appointing apt candidates for suitable job vacancies.
Trinity NDT provides opportunities to learn and explore the experience. For fast developing careers, pleasant work environment and opportunities with competitive remuneration and salary packages, go through the current job openings with us.
Latest NDT Job Vacancies (Updated on 07 June 2022)
Technicians NDT Level 2 Job Vacancies for Saudi Arabia (posted on 07.06.2022)

Qualifications: NDT Level 2 in Magnetic Particle Testing and Liquid Penetrant testing
Experience: 1-2 Years in DPT and MPI testing
Salary Package: 3000-4000SAR
Immediate Visa.
Eligible Candidates can email resume to: As the client got over whelming response and already received sufficient resumes, please do NOT send any more resumes Status updated on 08 June 2022 at 11.50am

Last Date for Applying for NDT Level 2 Technician Job at Saudi Arabia : Application Receipt Closed.

NDT Level II Job Vacancies for a reputed Pvt Ltd Company in Hyderabad India

Position: ASNT Level II
Good Knowledge in ISO/EN Standards
Good Knowledge in Ultrasonic Testing, Radiographic Film Interpretation & Magnetic particle Testing / Penetrant Testing
Qualifications: Diploma In Mechanical Engineering DME
Experience: 2 to 4 Years
Location: Medha Coach Factory, Kondakal (V), Shankarpally (M), Rangareddy Dist RR Dist Patancheru Hyderabad Telangana India
Send your Resume by email: akhilgoudk@medha.com

Last Date for Applying : 15th June 2022
Quality QA/QC Inspection Engineers Job vacancies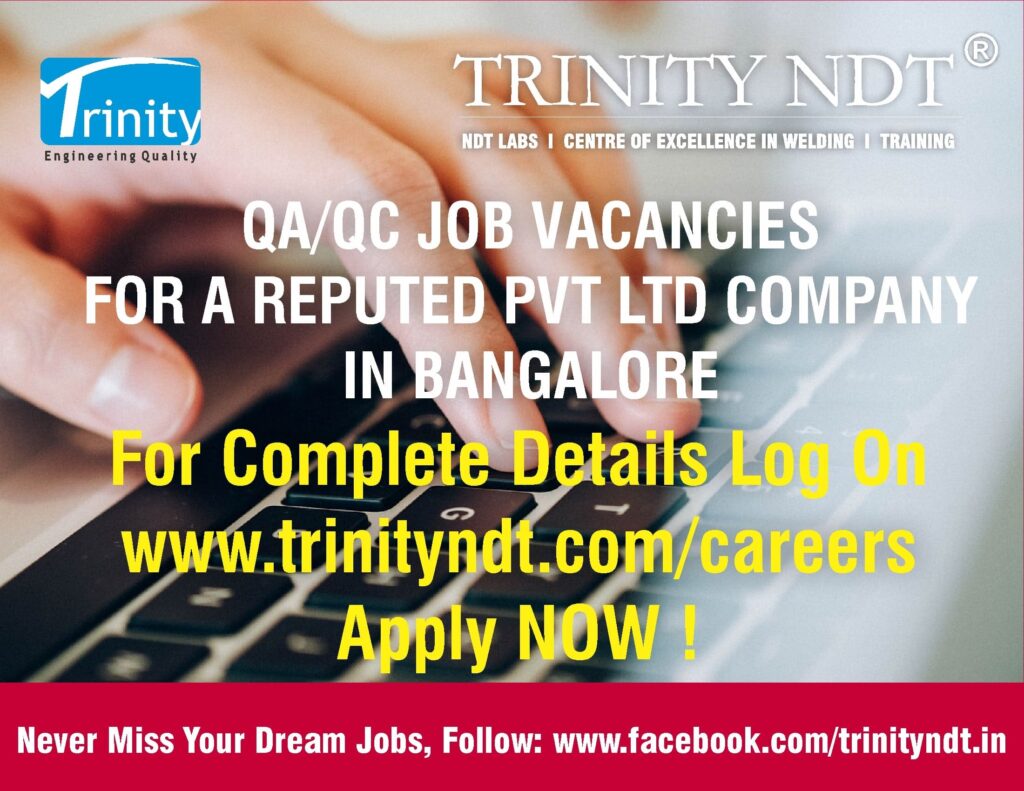 A reputed Private Limited Company in Bangalore, Karnataka – India is looking for following candidates for their Works near Bangalore.
No of Job Vacancies
One Vacancy in Peenya Industrial Estate &
10 No. of vacancies in Tumkur, Antharasanahalli Industrial Estate (near Bengaluru Karnataka).
Eligibility for the Post of QA QC Inspector
Diploma or Graduate in Mechanical Engineering with 2-3 years of experience in QA/QC plus NDT Level 2 certifications and having experience in handling the following job responsibilities.
Job requirements:
1. Material Knowledge and specification
2. Sound Knowledge in fabrication activities.
3. Should be able to carry stage wise QC Inspection and coordinate with Production Department.
4. QC Documentation
5. Good Engineering knowledge.
6. Should be willing to travel to site for inspection if required.
Eligible and Interested candidates can email their resumes directly to : hr@vrlengineering.com
Note: Only Selected candidates will be called for final interview. Last Date for Applying: 10th May 2022

NDT Technician Job Vacancies for Fresh NDT Level 2 Candidates (Job Code 0422)

Post Published on 28 April 2022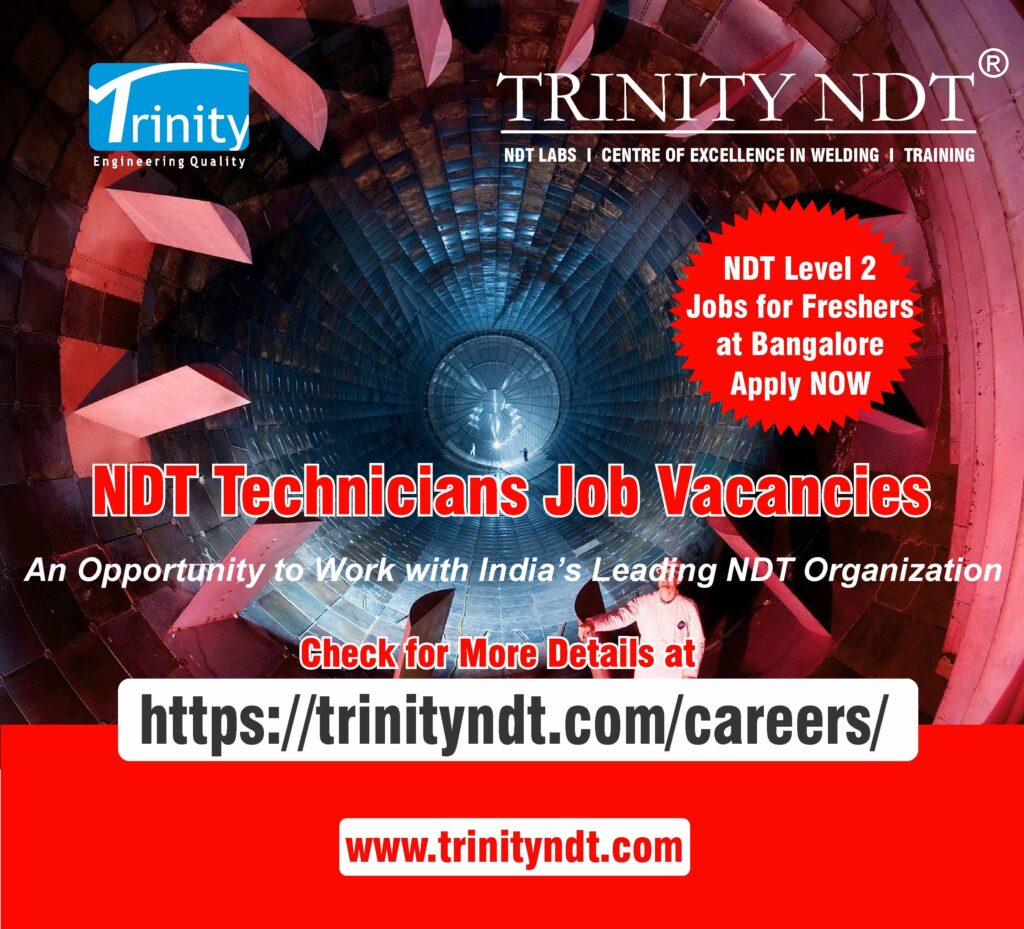 About TRINITY NDT Testing Labs in Bangalore, India
Trinity NDT – Testing Services Labs are head quartered at Peenya Industrial Area, Bangalore. The NDT Testing Services labs are NABL Accredited and Aerospace NADCAP Accredited. We serve over 500 Clients in India and Abroad. Our NDT Testing labs are fully equipped with modern Ultrasonic UT, Radiography testing RT enclosure, MPI testing, DPT/FPI testing, Eddy Current testing and Welding inspection.
Also among Top10 Performing MSMEs in India from Economic Times ET Now Awards 2021. The Testing centre is well recognized for high quality Nondestructive testing services, ASNT Level 3, NAS410 Level 3, Welding Consulting, Aerospace NDT testing and renowned training center for world class NDT Level 2 training and Welding Inspection training.
Technician Job Profile
The individual will be posted at our Labs to carryout various NDT tests for the client components and structures. He will be performing day to day NDT testing as per specified nondestructive testing procedures and customer norms. He will be reporting to Technical Manager at the testing labs. Job posting will be in and around Bangalore Karnataka India.
Eligibility
Diploma or 10+2 with Maths/science and NDT Level 2 (ASNT SNT TC 1A or ISO9712) in 4 or more test methods Viz. UT, MT, PT RTFI. Also should have good communication skills, ability to speak English and be conversant with two wheeler driving with valid Driving Licence (DL). He should be able to work in the team and have passion to learn NDT skills.
Experience
Level 2 NDT Freshers without any experience
No of Vacancies
04 Level 2 NDT Technicians
How to Apply for the Job Vacancies

Send us your detailed resume. Click Here to Whats app us your Resume Now.


Last Date for applying for Job Vacancies (Job Code0422): 05 May 2022

Fresher NDT Level 2 Job Vacancies in Bangalore (Job Code:1701)
Post Published on 10 January 2022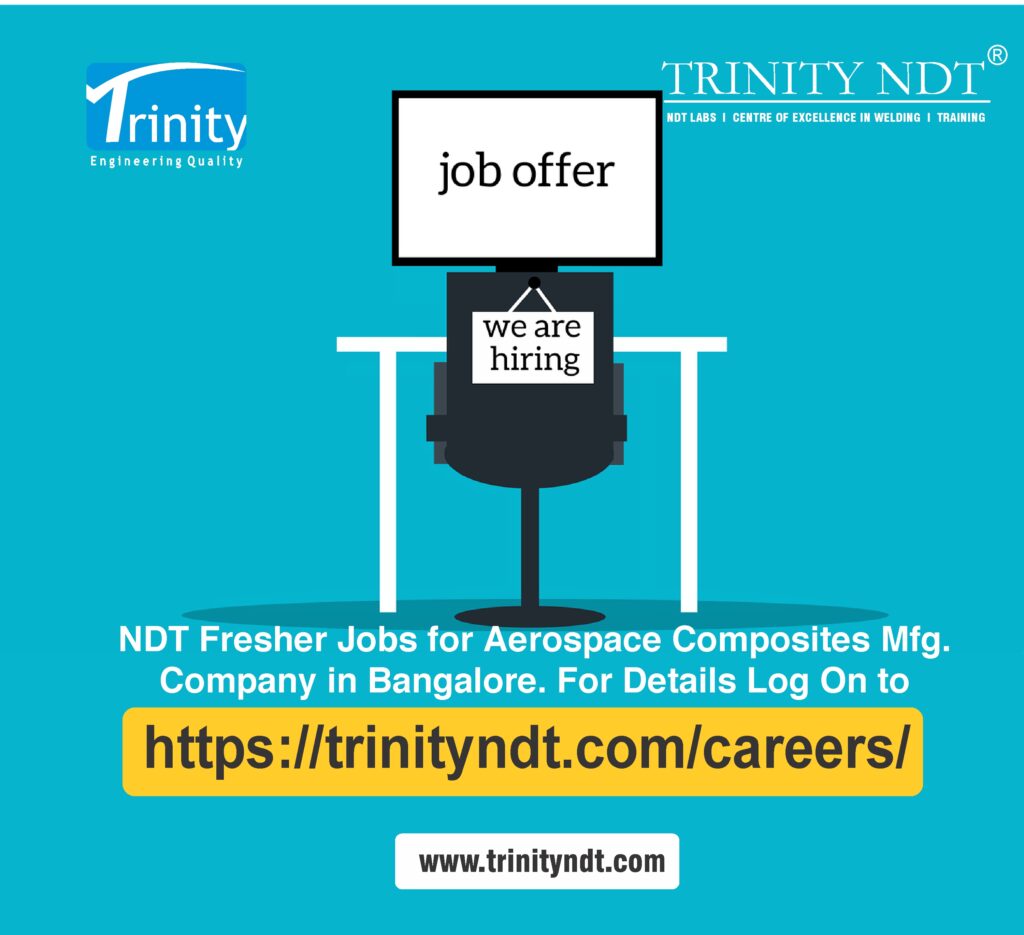 A reputed aerospace components and composites manufacturing company in Bangalore is looking for recruiting for NDT Level 2 Jobs in Bangalore, India. Eligible candidates as per below qualifications can apply
The candidates shall have diploma or bachelors degree in mechanical engineering with ASNT SNT TC 1A Level 2 in Ultrasonic, Magnetic Particle, Liquid Penetrant testing and Radiography film interpretation. Candidates with Visual and Eddy Current testing level 2 will have added advantage. Fresh NDT Level 2 candidates ONLY can apply. Job location will be at Bangalore in India. Attractive salary package and other benefits will be provided by the company as per company rules.
Eligible and interested candidates meeting the criteria of eligibility can email resumes with Subject as ' Application for NDT Level 2 Job Code 1701′ to: trinityndtjobs@gmail.com

Last Date for APPLYING for Fresher NDT Level 2 Job Code: 1701 is 19th January 2022.
UT & MT Level 2 Job Vacancies in Bangalore(Job Code: 1801/01 & 1801/02)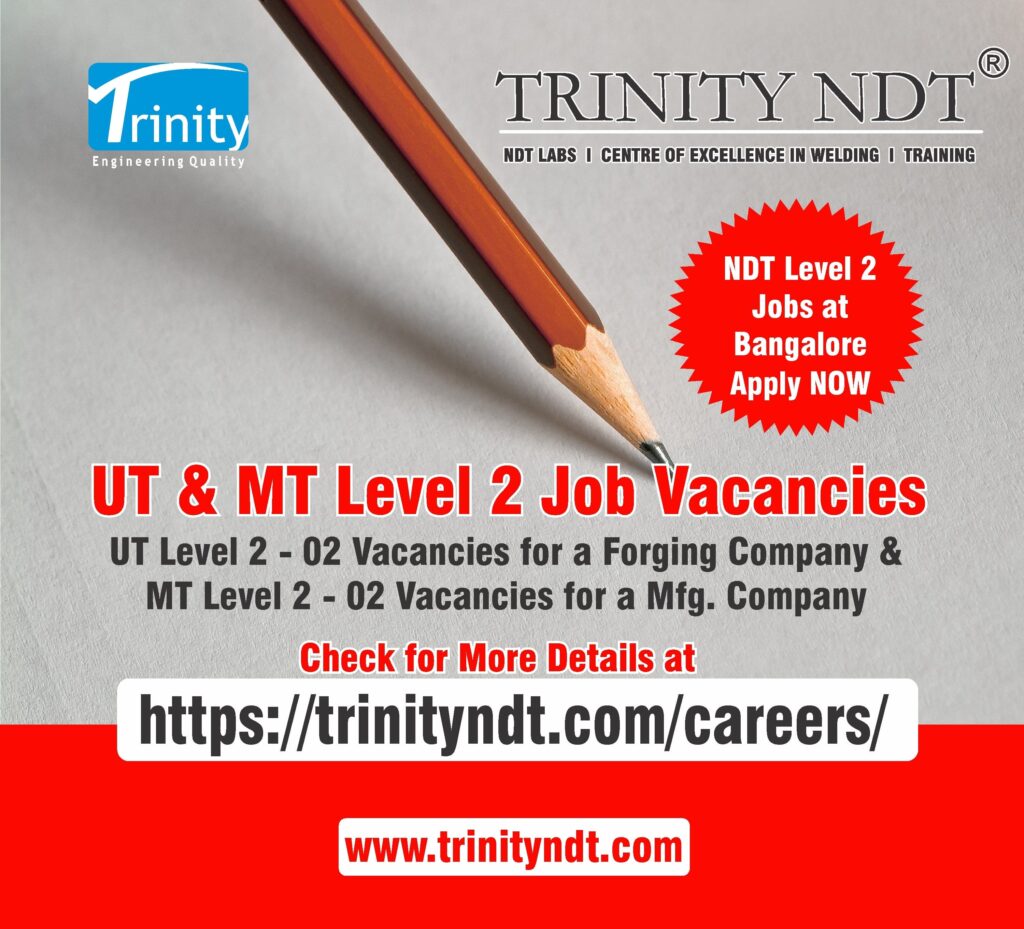 Ultrasonic testing UT Level 2 Job Vacancies for A Forging Company
A reputed forging company in Peenya Industrial Area, Bengaluru is looking for Ultrasonic testing Level 2 candidates.
Eligibility: BE or Diploma in Engineering with UT Level 2 as per ASNT SNT TC 1A. Fresh NDT Level 2 Can apply. Also, candidates with 1-2 experience in Ultrasonic testing of Forgings can also apply. Job Location will be at Bangalore in India.
No of Vacancies: 02
How to Apply: Email your detailed resumes (Specify Job Code:1801/01 in the email subject line) to: trinityndtjobs@gmail.com
Last Date for Applying: 22.01.2022
Magnetic Particle Testing MT Level 2 Jobs for a Mfg Company in Bangalore, India
A manufacturing company in Bangalore looking for Magnetic particle testing Level 2 (SNT TC 1A).
Eligibility: +2/BE/Diploma in Engineering with Magnetic particle testing MT Level 2. Fresh MT Level 2 Candidates and 1 to 2 year experienced on testing of engineering components using Magnetic particle testing also can apply. Job Location will be at Bangalore in India.
No of Vacancies: 02 (01 for Experienced and 01 for Fresher)
How to Apply: Eligible candidates can email resumes with subject 'Job Code: 1801/02' to trinityndtjobs@gmail.com
Last Date for Applying for the Job: 24.01.2022
Get Your NDT Level 2 Certification from Trinity NDT
Want to Get NDT Level 2 Certified. Visit Our Training Services Calendar and Enrol Today. Here is the Next Training Schedule.