india's Top Rated Aerospace NDT & Welding Services
World Class NADCAP Aerospace & NABL ISO17025 Accredited Nondestructive Testing, Welder Qualifications & Training Services in India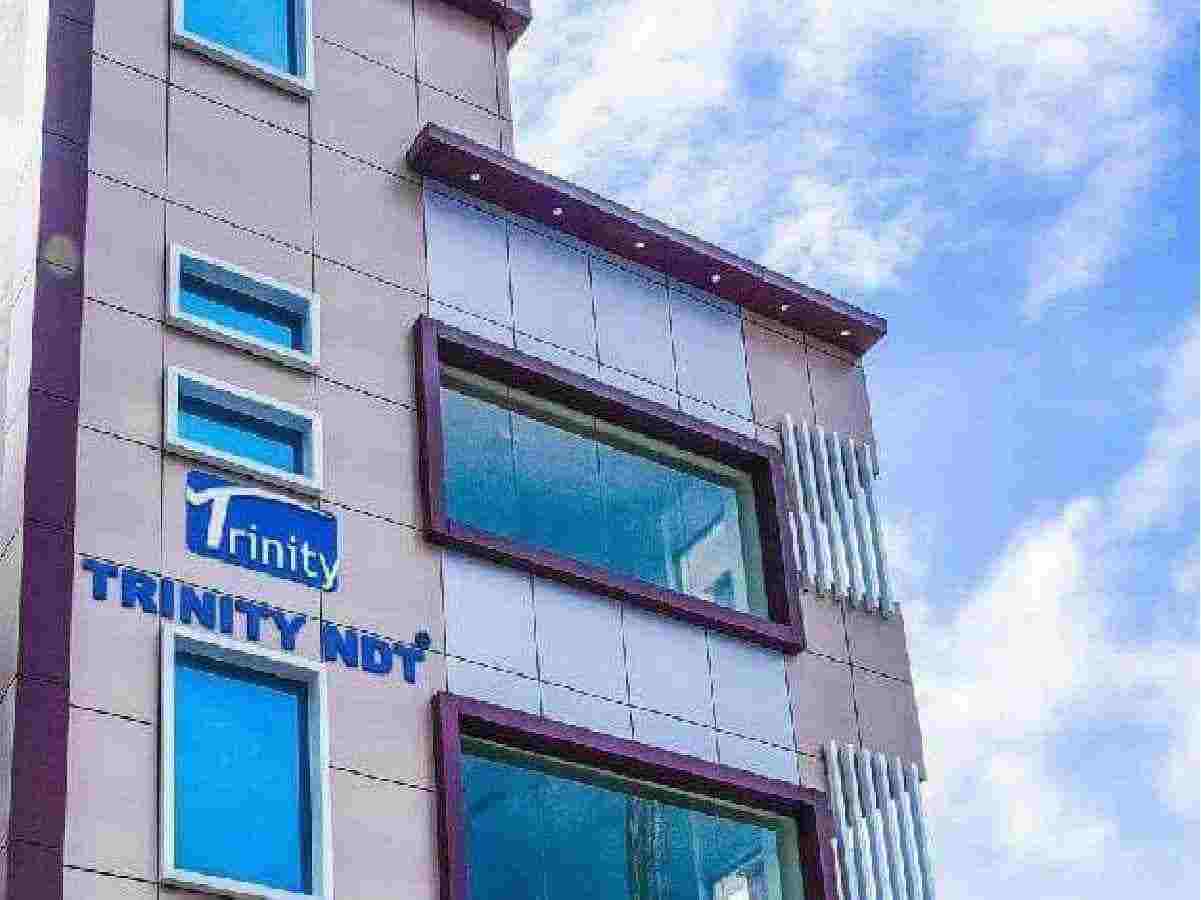 NDT Test Inspection Labs, Bangalore
Trinity NDT is India's premier NDT testing services company. Our Nondestructive Testing labs at Bangalore in India are NABL accredited. Over 500+ Customers. NADCAP Aerospace NDT Labs. Experience Our award winning quality inspection services on NDT.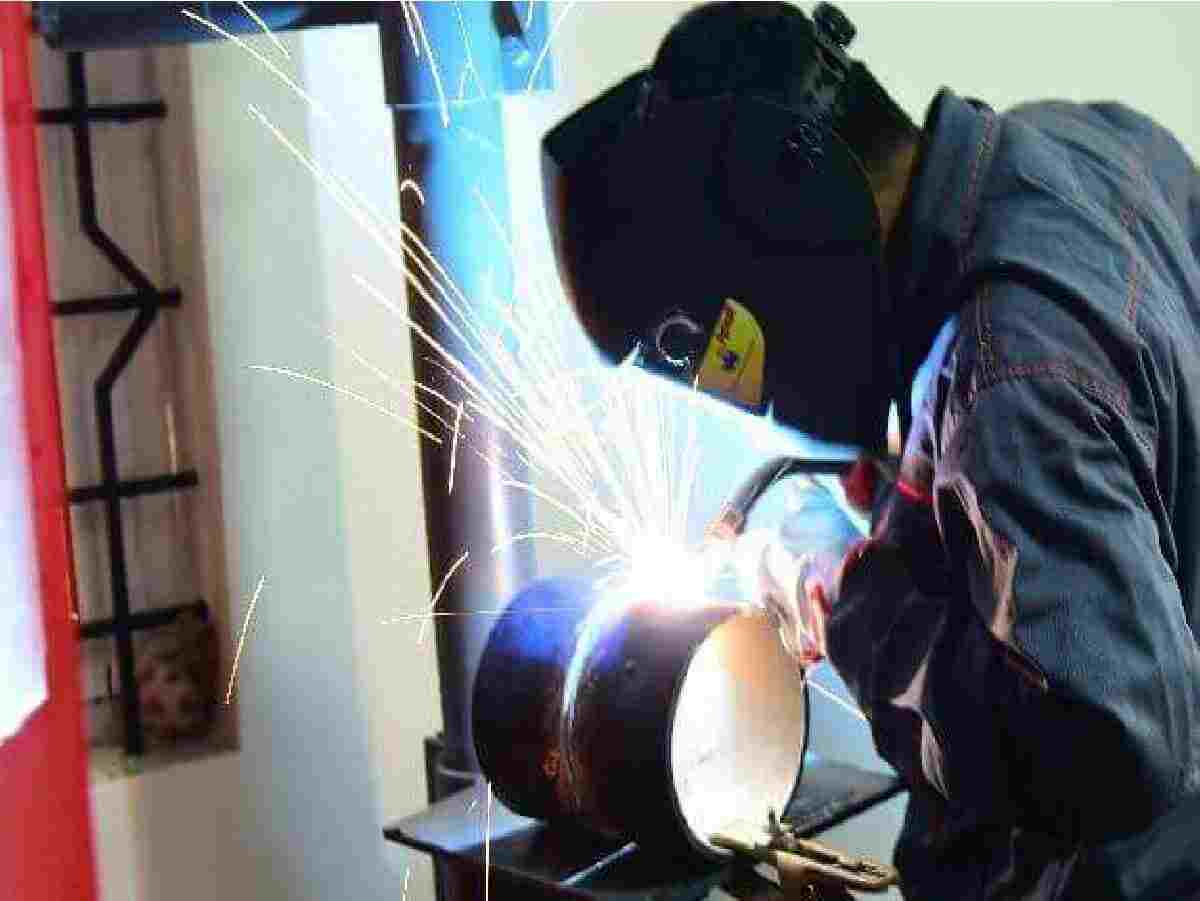 Centre of Exellence in Welding, India
Complete Welding services center in Bangalore, India. Be it WPS or qualify, certification of Your Welders as per ASME, ISO, AWS codes rely on our quality Welding services. Experience trusted and fastest welder qualification services in India.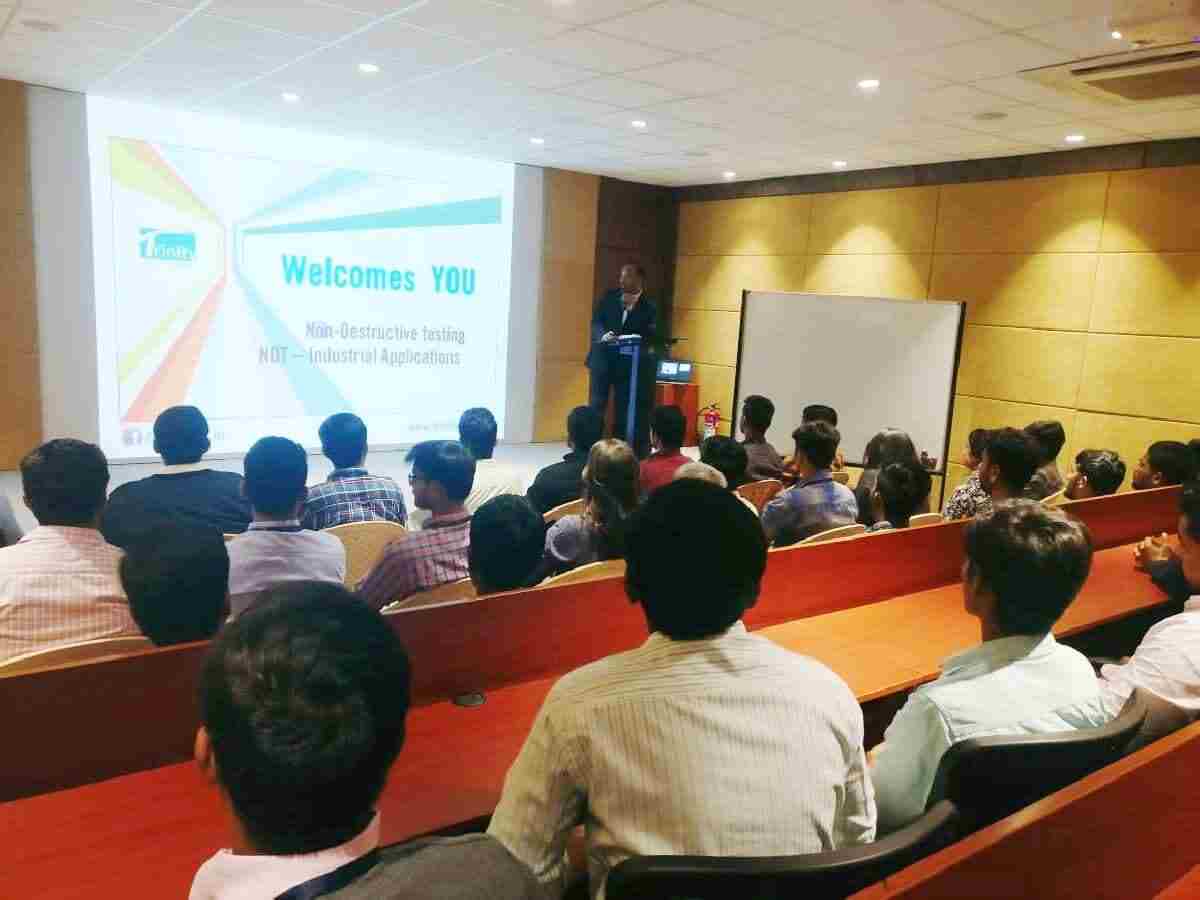 NDT Training Certification Courses
Training Courses on NDT Level2, Welding. Awarded 15000 plus Certifications to candidates from 42 Countries. QA, QC, NDT Online, Offline courses institute in India. The BEST practical training center. Skill Institute to Make YOU future Ready. Call NOW.
What We Do New in NDT & Welding
NDT services company NADCAP Aerospace & NABL Accreditated Labs
We are the preferred NDT Testing company in India. Inspection labs in Bengaluru are NABL accredited for Nondestructive testing. Aerospace MPI & FPI testing services are NADCAP Accredited. We serve pan India.
NDT Level 2 Training courses in India Online & offline calendar for Aug 2022
NDT Level2 Training: Online Courses 29 July 2022. Offline Courses - 10 Aug 2022. Ultrasonic UT Testing, Magnetic Particle MPT, Dye Penetrant DPT, Radiography RT, Visual, Eddy Current & Welding Inspection.
Welder Qualification Certifications IBR approved testing lab in Karnataka
A Unique Welding center for Welder Qualification as per ASME, ISO, AWS & IBR. Training, Certification of Welders. Boiler Inspector approved testing labs. Experts in WPS, welding consulting services in India.
need assistance? Contact our NDT & Welding Experts.
NDT Testing Labs, Center of Welding & Training Services
Trinity NDT is a leading authentic NDT testing, Welding and Training services company. We are registered with Government of India as MSME. Nondestructive Examination NDE Inspection labs, Welding Centre and NDT training institute are based at Bangalore in Karnataka.
We are the acclaimed quality services company serving India, Middle East, Europe and African countries. Know more about our awards and recognition. A credible quality testing company backed with expert ASNT Level 3 and International Welding Engineers. Providing Nondestructive testing, WPS Welder Qualifications and training services across India, Middle East and African.
A well known NDT testing services lab serving over 500+ customers. We are an approved quality testing center for Dassault Aviation, HAL, General Electric GE, Siemens and other OEMs. Find more about our clients.
Also, offering high quality first class NDT courses. Our training center, Trinity Institute of NDT is world leader for Level 1, Level 2 and welding certifications. We certified 15000+ quality engineers on NDT Level 2 and weld inspection skills.
Trainees from 42 countries since 20+ years are participating with us. Watch reviews on Youtube. Training schemes follows ASNT SNT TC 1A and ISO9712.  Find our offering on CSWIP Welding Inspection certification courses. Check Online Virtual NDT learning courses.

Our Quality Standards – NABL & NADCAP

The testing Labs at Peenya Industrial Area, Bangalore are NABL accredited as per ISO/IEC 17025:2017. Started in the year 2001, Trinity NDT is the most trusted brand for quality, integrity and professionalism. Know more about NABL accreditation testing services.
Our Aerospace division is NADCAP accredited for MPI and FPI testing. Also, serving customers in Hosur Tamilnadu, Mysore, Mangalore, Pune, Hyderabad, Vizag and Goa in India. Find more about our NADCAP Aerospace center.
ASNT Level 3 consulting, NAS410 Level 3 consulting for aerospace, ASME U stamp pressure vessel code NDE consulting and International Welding Engineer IWE coordinator services. Precisely, we are India's premier NDT testing company, Welding Centre and training institute.

India's most Awarded NDT company
Professionalism is our DNA. Quality is our passion. Recently, we won 3 prestigious national MSME awards from The economic times ET Now, Laghu Udyog Bharati and Tally Solutions. Find more about National Awards and Recognition.
Serving 500+ clients in India. What else could be a better proof than the best reviews from our clients. Here is the snippet of customer review on Google. "Very professional, quick and helpful! Out preferred NDT testing partners! – Mrs Thanmai Vishwanath, Director, Bangalore Valves. Check Testimonials

Ranked as 10th Top Performing MSME in India by Economic times ET Rise

We are ranked among India's '10 Top Performing MSMEs'. ET Rise MSME Awards 2021 are much followed prestigious awards in Indian MSMEs. The awards are from Economic Times, India's No.1 Business Daily.  Find More details about the ET Rise Award.
'Shreshta Udyama Seva Puraskar' Prestigious Award 2022

For outstanding services for MSMEs, we are honored with 'Shreshta Udyama Seva Puraskar'. Award from Laghu Udyog Bharati for the year 2022. Presented by Sri Murugesh Nirani, Hon'ble Minister for Large and Medium Industries, Government of Karnataka. Details of Award.
Business Maestro Award 2022 from Tally Solutions

Resilient companies not just survive they thrive beyond imagination. We recorded highest growth ever in our services. Recognising the efforts, we are awarded as  'Business Maestro for the year 2022' by Tally Solutions India. Read award details .
Now Learn in Virtual Mode. Online NDT Level 2 Training Courses in India
INDIA's Best Learning Center for nDT Level 1 and Level 2 Courses is near to you. Now training courses available Online in Virtual Mode. Register and attend Online certification courses at your convenience.
Online NDT level 2 training courses are regularly scheduling for working quality engineers. We schedule online training courses. Online NDT courses consists of class room and offline practical training at the institute in Bangalore India. To maintain best quality, we take only 15 online trainees for our virtual mode classes in India. Find the next schedule and register today.
NADCAP Accredited Aerospace Labs in Bengaluru India
Bengaluru in the state of Karnataka in India is a hub for making Aerospace components. We do Nondestructive testing for aerospace. The NDT Labs are NADCAP accredited in Magnetic Particle Inspection MPI testing & Fluorescent Penetrant FPI testing.
Find more about NADCAP Aerospace NDT Testing Services. Aerospace NDT centre has in house NAS410 Level 2 & Level 3. Also has composites Ultrasonic testing, Radiography X-ray and Eddy current services center. Find more about Aerospace NDT testing Services
NABL Accredited NDT Services center at Bangalore
Established in 2001, Trinity NDT labs are at Peenya Industrial Area in Bangalore. We celebrate 20+ Years of high quality services to our customers. NDT Labs, Welding & Training Center are spread across 20,000 sq ft area.  We also serve Hosur, Mysore and Mangalore. Presently executing projects at Goa, Delhi, Hyderabad, Vizag, Ahmedabad, Pune,  Cochin and Chennai.
NDT Testing labs of Trinity NDT are accredited to NABL, Delhi as per ISO 17025:2017. Scope of NABL accreditation covers Ultrasonic testing, Ultrasonic thickness gauging, Radiography RT, X-ray testing, Eddy Current, Magnetic particle MPT and Liquid Penetrant DPT Tests. Download scope of NABL accreditation.
Reliable UT testing services for inspection of castings, forgings and Welds.  Well experienced Ultrasonic testing engineers. Whether it is Ultrasonic Flaw Detection or thickness gauging, we support you. We serve in Bangalore, Hosur, Belgaum, Mysore and Mangalore. Also, projects in Delhi, Chennai, Mumbai, and Hyderabad. Read more about UT testing.
X ray radiography testing
Radiography X ray testing labs & RT services center at Peenya in Bangalore. We do NABL accredited radiography inspection of welds and castings. Our RT radiography testing services also available at Bommasandra, Dabaspet, Doddaballapur, Whitefield areas in Bangalore. Also served in Hosur, Trichy in Tamilnadu, Mysore, Mangalore, Shimoga in Karnataka and Hindupur & Tirupati in Andhra Pradesh. Find about RT.
Crack detection, material sorting or heat exchanger tube inspection, we offer complete Eddy Current testing solutions. Our Eddy Current test Labs have the best eddy current equipment. Offering heat exchanger tube & aircraft structures inspection. Find more on Eddy Current tests.
Magnetic Particle Testing MPI
MPI testing (known as magnaflux crack testing) is a surface and sub surface NDT method to find cracks on steel and ferrous metals. Portable MPT equipment can serve onsite crack testing. Magnetic particle testing facility is NABL accredited.  In addition, MPI testing labs are NADCAP Accredited as per ASTM E1444. Find more details Magnetic particle testing.
Liquid Penetrant testing DPT
Liquid Penetrant testing has complete testing techniques. That is, Type 1 and Type 2, Method A, B, C and  D. Penetrants Sensitivities from S1 to up to  S4 are available. DPT testing lab is NABL accredited. We can provide onsite DPT testing as well. It is a NADCAP Aerospace FPI testing lab in Bangalore. We serve in Hosur, Mysore, Belgaum, Hindupur, Shimoga & Tirupati. Find more details about Penetrant testing.
Visual Inspection services for weld joints. We carryout inspection of bridges, pipelines, girders, overhead structures. Using welding gauges we also do weld size and defect evaluations. CSWIP, ASNT, IWE/IWT certified visual testing experts. Find more about Visual testing.
Ultrasonic thickness gauging services for boiler pipes, tubes, Chineys and other components. Digital Thickness testing with highest accuracy. Internationally certified and experienced Ultrasonic thickness test specialists. Find More about Ultrasonic thickness testing.
A unique center for demagnetisation of steels and other ferrous metals that may contain residual magnetic field. We support you in demagnetizing the components to acceptable level thus avoiding problems. Find more about Demagnetization services.
For ASME U stamp certification, ASNT level 3 can give you consulting services. Serving in India, Gulf and African Countries. Starting from procedure preparation to documentation & qualifying NDT Level 1, 2 for certification
.
Find about ASNT Level III & ASME U stamp Consulting.
Comprehensive NDT Inspection & Welding services
Leading NDT training Institute for Online Level 2 Courses

Online NDT certification courses are designed focusing on working quality engineers to upgrade to NDT Level 2 skills. Trinity Institute of NDT Technology (A training centre of Trinity NDT, Bangalore) is a well known institute for Online virtual certification courses for NDT Level 1 and Level 2. Online NDT training is offering as per ASNT SNT TC 1A and ISO9712 schemes. Read Reviews about our online training courses.
Also, scheduling online Welding Inspector courses for welding engineers. Our Online courses helps NDT trainees to complete class room training on virtual mode. Every online course maintains delivery of best in quality contents from ASNT Level 3 trainers. Register now online.
Virtual Online NDT learning courses for India, Africa & Middle east
Both Online virtual and offline training courses are organized at the training centre in Bangalore. Also organize a courses at your location in Delhi, Patna, Hyderabad, Cochin, Pune, Mangalore, Kolkata and Vizag in India.
Online training quality engineers from over 42 countries viz Nigeria, Cameroon, Ghana, Kenya, UAE, Gulf and Africa.
A training agent for TWI India for ISO9712 certifications. We organize CSWIP 3.1 welding courses in Bangalore, India. Prior to admission, check here for course fee, training eligibility for NDT Level 2 courses.
Check training schedules from our Level 2 course calendar. Know more Welding Inspector Training.
WPS, Welder Brazer Qualification and Certification

'Centre of Excellence in Welding' serves on preparing WPS, welders qualification tests and certification services. Set up of WPS to qualifying welding process and documenting on WPS, PQR and WPQ. Contact for Welder Brazer certification consulting in Bangalore, Hosur, Mysore, Hyderabad or Mangalore.
We provide extensive WPS, welder qualification testing and welder, brazer certifications. In addition, we validate and certify welders, brazers and welding operators. we can provide consulting on preparation of WPS and PQR. Know more about Welder certificate Qualification test

IBR Approved Welder Qualification testing Center
Department of Industries and Boilers, Government of Karnataka approved Centre of Excellence in welding in Bangalore as per IBR code. We can certify your welders as per Indian Boiler Regulations IBR latest code. 
Also, Indian Boiler IBR RT and UT testing services for boiler welds and castings. Find more about IBR welder brazer qualification
Welding Machines Calibration

We are an agency that provides welding machines calibration services in Bangalore, Hosur and Mysore. Also, onsite welding machine calibration validation services in Bengaluru (Karnataka) for all kinds of welding machines. Find about Welding Machine Calibration Services.
Arc Welding, TIG & MIG Welder Skill Training Center

Skilled Welders are in huge demand in India and abroad. Due to rapid economic activities, demand for qualified and certified welders is ever increasing. To bridge the skill gap, we are organizing skill training for welders at our centre in Peenya Bangalore India. Tailor made Arc, TIG, GMAW and FCAW welding training institute.  Find more about Welders skill training course.
Check Online Virtual NDT Certification Course Details
Most frequent questions and answers