Dye Penetrant DPT Testing Services Center. NABL Accredited Lab.
Fluorescent, visible Techniques. Onsite and In lab Services. Experts in Weld DPT Testing.
DPT testing Services Lab. Dye Penetrant testing experts. Method A, C & D up to S4 Sensitivity. Quick onsite Weld Inspections. Serves in Hosur and Mysore.
We are the preferred DPT testing NDT Lab in Peenya Bangalore serving whole of Bommasandra, White Field, Dabaspet and Doddaballapur. Penetrant DPT Testing is also wide known as Dye Penetrant testing, Dye Penetrant inspection or in aerospace called as Fluorescent Inspection FPI Testing. It is is one of the most widely used Non-destructive Evaluation NDE inspection method for welds and castings. DPT testing is commonly used for finding critical surface opened flaws.
In general, this is one of the prominent NDE methods used for inspection of Weld Joints, Castings, Forgings, in-service inspection of at cheapest cost. Also, a very reliable method for testing of Aerospace components, Aircraft structures and in-service inspection to find fatigue cracks. 
DPT testing centre has complete range of penetrants. Whether it is visible red dye penetrant or fluorescent penetrant, we have every solution to meet your demands. You may bring the components to our centre or you may invite us to do DPT testing at your works. NDT Level II strong expertise under ASNT/NAS410 Level III, spacious labs, approved procedures, fast response to calls, our DPT services are trusted by over 500 clients.
Penetrant, Developer Types, Techniques and Sensitivities. The Complete DPT testing Facility
Though it is treated as the simple NDT method, the test results may vary greatly in terms of techniques and sensitivity levels employed in testing. Results normally depends on application of component and sensitivity desired. 
Penetrant Testing techniques are categorised based on penetrants as Type 1, Fluorescent & Type 2, Visible Penetrants. Also, based on method of removal procedure as Method A, B, C, and D. In addition, based on sensitivity as Level ½, 1, 2, 3 and 4. At our DPT centre in Bangalore, we have facility for using all types of penetrants and sensitivities. 
DPT testing is not as simple as you think. To get proper results, it should be performed using approved chemicals, procedures, experienced of Level II inspectors and a lot more. Not everything you see on welding shops is a right procedure. Therefore, outsource your dye penetrant to us that can ensure right results.
Penetrant DPT testing has simple steps
Precleaning to remove contaminants
Apply penetrant using suitable means
Allow penetrant to enter into flaws (Dwell time)
Remove excess penetrant
Apply developer
Give developing dwell time 
Find the cause of indication (if any)
Check for acceptance of flaws
Post clean to remove remnants
Apply rust preventive oil
Dry Developers are preferred for Aerospace NDT applications. Solvent removable, Wet Aqueous and Non Aqueous developers also available and used based on customer specific procedure requirements.
Penetrant testing at NABL Accredited Lab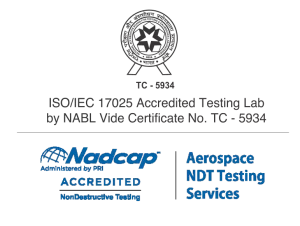 Our FPI labs are NABL ISO17025 accredited and meets international standards including aerospace FPI testing standard ASTM E 1417 and customer specific Standard Operating procedures – SOPs. All penetrant testing techniques including Fluorescent, Visible penetrants, Water washable, Post Emulsifiable, Solvent removable penetrants up to sensitivity Level 4 are available to suit all customer specifications and Aerospace FPI standards. Quick Contact us for your requirements on NDT
state of the Art FPI testing Stationery Equipment

State of Art modern Aerospace FPI testing set up is catering to the needs of customers and considered and is one of the best facility available in India. Pre-cleaning during Penetrant testing is considered as one of the most critical steps and to meet this, we are equipped with Ultrasonic Cleaning Equipments, Alkaline cleaning equipment and solvent cleaning solutions.
Also Trinity NDT undertakes Dye penetrant testing DPT testing both onsite and off-site for applications including testing of Weld joints, Pressure vessels and boiler components, cross country pipe lines, Castings, Valves, gears, Turbine blades and critical aircraft engine components to cracks, porosity, welding defects such as lack of fusion, blow holes and many more surface opened flaws. Timely calibrations, Daily control checks using TAM/PSM panels ensures the process controls are intact.
Our Aerospace FPI testing labs are approved by CEMILAC – DRDO organization – Government of India, Hindustan Aeronautics Ltd – HAL, L & T Aerospace and many more. Contact us to outsource your NDT Testing to us. We assure to deliver the best to meet your expectations in terms of Timely delivery, professional services at affordable cost. Know more about Aerospace NDT FPI testing facilities.
ASNT Level III Consulting on Penetrant testing
Trinity NDT have in-house Non-destructive Testing Level III professionals. Every NDT procedure is approved by the Level III to meet client requirements. We also provide ASNT NDT Level III consulting services to the needy industries/companies to prepare Written Practice for qualifying and certifying personnel, establishing techniques, and oversee NDT operations. Know more about ASNT NDT Level III consulting.
Dealers, Sales and Stockists in Bangalore for DPT Chemicals. Also supplies to Hosur and Mysore.
Dye Penetrant and fluorescent penetrant chemicals kits stockists and dealer for Karnataka India for various brands – Solvent removable penetrants, solvent cleaners, developers, accessories and aluminium cracked samples are stocked and supplied for ready use. Items can be hand picked from our office or couriered with prepayment. Quick Contact us for your requirements on PT chemicals sales
Knowledge Corner - Learn basics
Codes and Standards for DPT testing
Even though there are numerous standards on PT testing, ASTM standards ASTM E 165 and ASTM E 1417 are widely recognized and ASME pressure vessel code ASME Section V – Non-destructive Examination, API Codes, AWS codes, British Standards, EN standards provide acceptance criteria for various applications. Trinity NDT – Testing Labs uses its approved procedures that meets international standards, codes and customer specifications.
Key Highlights of facility
Training and Certification programs on Penetrant testing
Trinity Institute of NDT Technology (A training division of Trinity NDT) offers world class NDT training and certification courses that meets written practice and framed to the requirements of recommended practice SNT TC 1A. For upcoming Training & certification schedule on PT inspection Level II course visit our Training Calendar page, fee structure, eligibility criteria for the training courses and register for the courses.
Participants from over 40 countries have benefited from our courses. The following are participants from countries whom the institute trained so far: India, Australia, US, UK, Dubai, Russia, Thailand, Malaysia, Singapore, Papua New guinea, Nigeria, South Africa, Kenya, UAE, Saudi Arabia, Oman, Yemen, Qatar, Philippines, Maldives, Sudan, Pakistan, Afghanistan, Bhutan, Nepal, Iraq, Syria, Libya, Cameroon, Angola, Congo, Portugal, Uganda etc., Read reviews on Youtube channel