Vision, Mission and Objectives – TRINITY NDT
Our Compass and Destination – Incredible Customer Care
Mission, Vision and Objectives of Trinity NDT
Trinity NDT is a leader in Nondestructive testing and welding services in India. We are a customer centric company with clearly defined Mission, Vision statements for the way forward in delivering the best to our valuable customers.
We are committed to provide world-class NDT & Welding solutions to our clients in aerospace and allied sectors focusing on testing, training, certification and consultancy services with emphasis on professionalism, integrity, reliability and genuine customer care.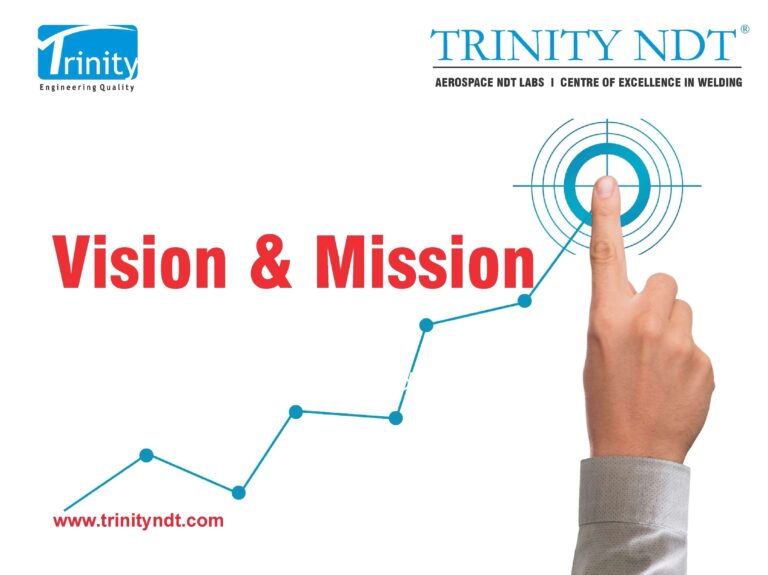 To be the Global Leader in providing world-class NDT & Welding solutions by focusing on-
NDT Services-helping our clients to offer best in class products and services and enhance customer satisfaction
Welding Services – Developing and implementing global standards in welding processes based on Industry needs
Testing-Offering state of the art NDT & Welding testing services as per the prevailing international standards
Training-Offering training and certification programs in NDT & Welding to develop globally competent manpower based on the industry needs and contribute to bridge the skill gap
Consulting-Offering customized Technical and Management solutions in the field of NDT & Welding using our core competencies and technology driven resources.
To adapt & update to international quality standards and ensure compliance through employee involvement, internal & external audits
and international accreditation
To partner with our clients and help them in providing products and services of highest quality which meets the end user requirements
To maintain passion for continuous improvement among all our employees and strive for excellence in testing, training and consultancy
services
To design, develop and deliver training curriculum which focuses on Skilling so as to enable our learners to achieve full potential and make them globally competent professionals in the field of NDT & Welding
To imbibe professional ethics, develop honesty and integrity among our employees through transparent and participatory work culture.
Mission Vision Statement of Trinity NDT emphases on our commitment towards ' Making the World Better & Safer for Quality Life'.