Visual inspection Training, Certification Courses
Visual Testing(VT) Level I, II Course. Online and Offline training. Experienced ASNT Level 3 Trainers.
Visual Testing(VT) Level I, II Training & Certification Courses
Introduction to Visual Inspection Course
VT for "Visual Inspection" Testing is a widely utilised NDT method in industries, as the name suggests. The Visual testing method is heavily used by welding fabrication organisations to check the quality of the welds. The NDT technique of visual testing is flexible. That can be used for in-service inspections as well as testing of welds, castings, forgings, pipes, and tubes.

Metals, non-metals including plastic, glass, ceramics, and composites, as well as both can be tested with VT. The technique is more widely used in oil and gas refineries and in aeronautical applications. It is a well-known fact that visual testing alone accounts for more than 80% of NDT in the aerospace industry.
Numerous surface flaws and defects, including as pinholes, porosity, laps, seams, shrinkage, cracks, etc., can be found via visual testing. In order to identify and eliminate defective items, VT Inspection is a crucial testing method in CNC shops and automotive businesses.
Visual inspection, which uses one's eyes and magnifiers for direct visual examination, is a simple and practical testing approach. Borescopes, fiberscopes, and video cameras are just a few examples of the equipment that can be used in indirect or distant visual assessment. Direct visual inspections are appropriate for surfaces that are visible from the inspector's sight within 24 inches or two feet. While remote and indirect VT testing is appropriate for inaccessible
Training on Visual Testing is Important for Welding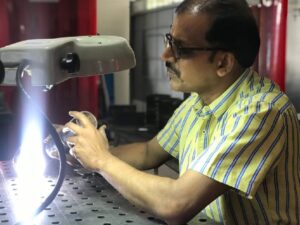 Nondestructive testing techniques can be very helpful in evaluating the weld joints' quality. Visual testing is a relatively cheap method of finding weld flaws. The VT testing method finds faults in weld joints such slag, underfills, undercuts, extra reinforcement, and cracks. In addition, pay attention to the cleanliness, porosity, burn through, weld finish, lack of fusion, and weld finish.
To assure the quality of the welds, VT inspection is a crucial tool in welding and fabrication facilities. It's critical to spot manufacturing process mistakes. Before welding, during welding, and after welding are at least three stages where the visual testing is useful.
Visual inspection tools include even dimensions measurements made with micrometres, Vernier, profile gauges, and surface finish measuring equipment.
Types of Visual testing - Direct and Remote Techniques
Visual VT testing employs direct or indirect examination techniques. Without employing many tools, the direct examination approach is carried out using only the human eye. To execute the tests and meet the requirements of the rules and specifications, adequate lighting is crucial. The employment of borescopes, fiberscopes, video cameras, lenses, and other visual aids is common in indirect or remote visual inspection techniques.
In addition to other procedures like DPT testing or FPI testing in the aerospace industry, magnetic particle MPI inspection, ultrasonic UT inspection, eddy current ET testing, and radiography RT testing, the VT testing method is frequently utilised. Before disposing of heat exchanger tubes in petroleum refineries, inspections and weld joints testing also employ visual testing equipment to look for surface flaws and other defects.
About Visual Testing(VT) Level I, II Course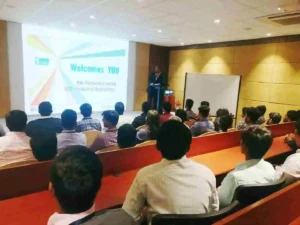 Even though visual testing is straightforward, there are still significant skill requirements. Certified inspectors (as per ASNT SNT TC 1A) are required to know about the welding process, welding symbols, welding faults, and welding metallurgy in order to perform weld testing. Additionally, he or she should be well-versed on nondestructive testing techniques, welding equipment, parameters, and wps.
Modern ISO/ASTM and ASME standards and rules require that VT technicians be certified to at least Level 1 or Level 2. Before becoming certified, the trainee must meet the requirements of ASNT SNT TC 1A. The trainee has to receive sufficient classroom and hands-on training. Before certification, he or she needs acquire the necessary abilities and information.
The purpose of the training programme is to provide theory and practise for welds using appropriate tools. The need for reading weld symbols is urgent for fabrication quality QA QC engineers. The quality engineer cannot do weld inspections unless he is familiar with the weld symbols. Unfortunately, deciphering weld symbols is not a subject included in our engineering programme. Due to this, weld fabrication businesses directly without adequate training cannot use our mechanical engineers for QA or QC tasks.
Good for mechanical engineers to
improve employment skills
This unique Visual Inspection course's objective is to make it simple for mechanical engineers to find employment. It includes Level 2 certification training. The programme will provide information on the welding process, symbols, and inspections performed before, during, and after welding. Gives extensive instruction on how to use welding gauges. Numerous Indian companies are looking for certified inspectors.
Additionally, the training is helpful for mechanical engineers who are migrating abroad. Also, helps mechanical engineers advance their careers and earn rich pay scales.
There is NO BETTER institute than Trinity NDT to study about VT testing of Welds because it is brimming with more than two decades of welding and NDT knowledge.
Trainees can gain superior experience by working with ASNT Level 3 welding engineers. International Welding engineers (IWE) will share their experiences throughout the courses. ASNT Level 3 trainers deliver excellent classroom instruction. There is no better way to learn than through observing Level 3 specialists in action. You may also visit Trinity NDT on Youtube.
Certification Scheme - SNT TC 1A / ISO9712
For international certification in visual inspection, there are two main schemes. In order to certify trainees in visual testing, ASNT SNT TC 1A is based on employers' written practice. Since the 1970s, this method has gained more acceptance. Due to its capacity to create and deliver training in accordance with employer demands, the majority of firms continue to use SNT TC 1A today.
SNT TC 1A gives flexibility in terms of depth of subject. It is an employer base certification program. Therefore, employer's Level III can help to design the course contents. If out side agency services are used, it shall match with the employers written practice.
At Trinity NDT we organized Visual Testing Level II training as per SNT TC 1A since 2001. Trainees from over 42 countries took the courses. Delivered good number of custom made programs to customers in India, and African countries.
The complexity of the topic can address a crucial part of visual examination in actual workshop practice. The VT Level 2 courses are being taken by QA QC Engineers. In Bangalore, India, we also host ISO 9712 visual testing courses as the training agent for TWI India, Chennai. Find more details about ISO9712 NDT courses.
Visual testing Level II Course Objective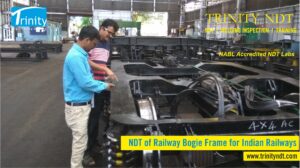 The prime objective of Visual Inspection Level II course is develop skilled inspectors. To understand and identify welding flaws, symbols, weld dimensions and assembly errors. Know the welding inspection requirements. Making familiar with visual inspection codes, standards and specifications. The course also helps to gain adequate inspection skills in preparing for CSWIP 3.0 certifications.
After completion of VT Level II course, he/she can able to understand weld drawing, symbols, NDT processes, identifying flaws on the weld surfaces. Measure the size of flaws and able to verify for acceptance or rejection.
Eligibility of VT Level I, II Certification
The requirements for Visual testing (VT) Level I, II certification as per SNT TC 1A of ASNT. Before registering for a course, make sure you check eligibility for the level of NDT certification.
Refer to the chart below for the prerequisites and experience according to SNT TC 1A-2020. Additionally, you must have adequate colour and distance vision. An ASNT Level III or a registered opthalmologist must conduct the eye exam. Download the Eye Fitness document format.
| Level of Certification | Qualifications | Experience in Visual Testing | Total Experience in NDT |
| --- | --- | --- | --- |
| Visual testing (VT) Level I | High School Passed | 70 Hours | 130 Hours |
| Visual testing (VT) Level II | Diploma or B.E/B.Tech in Engg. | 140 Hours | 270 Hours |
| VT Level II (Direct) Certification | Any of the above | 210 Hours | 400 Hours |
Check upcoming NDT schedules, both online and offline. For information on Visual Testing course fee, get in touch with us right away. You can chat with us now.
Identifying various flaws in Castings, Forgings, Ingots, Rolled plates, Weld joints
Understanding the relevant welding technology
Understanding the need for documentation
Familiarity – codes and standards
Perform visual inspection of welds, report on them
Assess their compliance with acceptance criteria
Gaining sufficient knowledge to successfully complete Level II, I examinations.
Practicals: Visual testing of welds, Welding Gauges, instruments and accessories.
ASNT Level III Visual Testing Course trainers
Any training programme is only successful if it provides high-quality information, experienced instructors, and hands-on practicals. At Trinity NDT in India, you will discover an unrivalled combination of teachers and training facilities. View the profile of an ASNT Level 3 trainer here. You can go to the training facility and have a tour of the NDT testing labs and Centre of Excellence of Welding in Bengaluru, India's Peenya Industrial Area.
The NDT laboratory and weld centre will wow you. To register for the forthcoming Visual Inspection Level 2 program, contact us right away. Give us a call now.
What mode of training available?
The institute offers visual testing course in Online and offline (in-person) modes. Candidates can choose any mode of learning. Find more information about online NDT training schedules, time and duration. Post completion of course, practicals will be organized at Labs in Bangalore, India. Virtual training sessions are live and interactive. Trainers will present the subject and deliberate on key aspects of inspections. Examinations will be held online.
VT Level II Offline (in-person) training is held at Institute campus in 4th Phase, Peenya Industrial Area, Bengaluru. Duration of course is three days. Course has hands on practical training at our welding center.
Examinations for Visual Testing Course
After completion of the course, individual have to take examinations. Examination will be held as per requirements of SNT TC 1A. Candidate has to secure pass marks to be eligible for awarding Visual Testing Level II certificate/s. Learn more about NDT examinations.
How to Register for the Courses?