NDT Level I, Level II Examinations for Certification
Know more About Our Assessments & Examinations, Model Code of Conduct During Examinations
About NDT Examinations. Types of questions, exam pattern, assessments, know about passing marks.
Examinations at Trinity NDT Certification Courses
After finishing the course, the trainee must take exams in order to receive NDT certification. The task of administering exams will be assigned to a Level III examiner. The examinations will be held in accordance with the requirements listed below, thanks to a company-approved NDT Level III examiner at the institute. As per SNT TC 1A and employers' written practice, passing in every exam is required. 
The following exams should be taken by each candidate for Level 2 or Level 1 certification programmes independently. The trainees shall take the exams listed below in accordance with ASNT SNT TC 1A and Written Practice.
Tests will be given after every NDT training course to make sure the students have learned what they need to. That is, he or she should be able to do testing in accordance with requirements and possess solid expertise.

What kind of examination/s one has to take?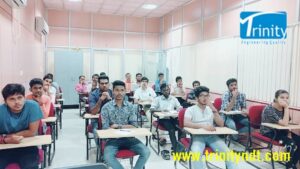 Written and practical exams must be taken for all NDT levels. Written tests are divided into two sections and one practical exam for each method.
General Exam: Covers the basic principles, theory, applications of the specific NDT method. The "General" portion of Part I consists of objective-type tests. It is a closed-book test. contain queries regarding the method investigated. To succeed on this exam, pay attention during lectures, take notes during presentations, finish the assignment, and communicate with the trainer. 40 in total Answers are required to multiple choice questions. There won't be any fill in the blank, match the following, or descriptive questions on this test.
Specific Exam: Tests ability to read, interpret and apply specific procedures, codes, standards. The Specific portion of part II consists of objective-type tests with 24 multiple choice questions. It is a open book examination contains questions about a specification or an NDT procedure. The candidate has to read, understand the contents of the specification during the exam and answer the questions.
Duration of written examination is 90 minutes for both part I & II.

Practical
Exam:
Hands-on demonstration of the ability to operate test equipment, perform testing. Individuals shall perform the NDT task independently, evaluate the results and prepare a
test report in the format
.
How many marks do I need to secure to pass in exams?
Each applicant must receive at least the following percentage of marks to be declared "passed" in the NDT method.
70% in General Exam
70%in Specific
80% in Practical
80% on average of above three exams.
Hence, a passing composite grade of at least 80% is required, with no individual examination requiring a score of less than 70% for General and Specific and 80% for Practical.

How long will it take to announce the examination results?
After reviewing the exam results by NDT Level III examiner, successful applicants will be awarded Level I, II certifications within 10-15 working days. Candidates who don't get the required score must retake the exam at the same training facility in 30 days. Before reexaminations, unsuccessful applicants may receive further instruction or additional training.
Re-examination for failed candidates
Those who do not receive the necessary passing scores must wait at least thirty (30) days or complete any extra training the NDT Level 3 Examiner deems necessary before taking the exam again. To appear for a re-exam, a fee of Rs.1250/- (Indians) or USD25 (other nationals) shall be deposited to the training coordinator. Re-examination date and time will scheduled and the candidate has to attend and complete.


Validitity of NDT Level I, II certificates
As per SNT TC 1A, all NDT certifications are valid for a period of 5 years from the date of certification. For employer based programs, certification validity ceases when he/she leaves the organization. Before the expiry, the certificates shall be renewed or re-validated by an NDT Level III. Find more details about NDT certification renewal. In addition the candidate has to maintain his eye fitness certificate in valid status.
For additional information or clarifications, contact us or chat with us on Whats app.