Quality Institute for NDT Level I, II Certifications in 6 methods
ASNT Level III, IWE certified Trainers. World Class Auditorium. NABL accredited Labs for Practical training.

15000+ Candidates certified from over 42+ Countries Since 2001. Join and Experience the professional training.

Offering Nondestructive Testing(NDT) & Welding Inspector Certifications. Worldwide Recognized.
introduction to NDT Certification
'Certification' in NDT is a written document indicating that an inspector has required skills to perform nondestructive testing in the method. He should have capability to carry the tests as per approved procedures. It also gives confidence to the customers that he/she has met requisite educational qualifications, and experience. Based on the level certified, inspectors should have competency to perform inspections and interpret examination results.
Why an NDT Inspector should be certified?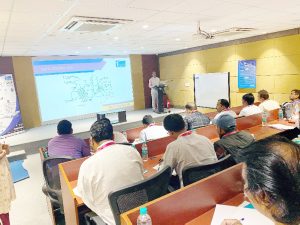 Unlike destructive testing, in NDT, interpretation of results are not easy. For example in destructive tests, such as tensile or hardness testing the results are directly readable from gauge or screen. Where as in NDT, results are not directly readable, thus demands additional competence in evaluation. Therefore, standards and codes mandates that the inspector should meet education, experience and training. In almost all cases, the inspectors should have either Level I or II or III certification in the test method.
Unless the inspector has met the qualification criteria he/she shall not be engaged in any NDT activities. Because, there is no assurance that the candidate has adequate skills to interpret the results, it is risky to accept results.
A candidate before certification is considered as 'NDT trainee'. He/she has to work under the supervision of either Level I or Level II. Shall not perform the testing independently.
As per SNT TC 1A, 'A trainee is a individual being trained and yet to be qualified and certified'. He should work with a certified Level 2 or 3 person. Also, states that he shall not conduct, interpret, evaluate and report the examination results without the supervision.
NDT Level I and Level II Inspector
Level I certification gives assurance that the inspector has ability to do equipment calibrations. He/she should able to perform testing as per approved
NDT procedures
.
In contrast, Level II inspectors, should have skills for interpretation and evaluation of indication. He/she shall have knowledge about NDT codes and standards. Prepare written instructions for Level I in the method certified. He is responsible for maintenance of equipment and accessories.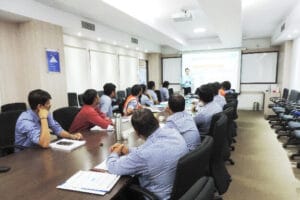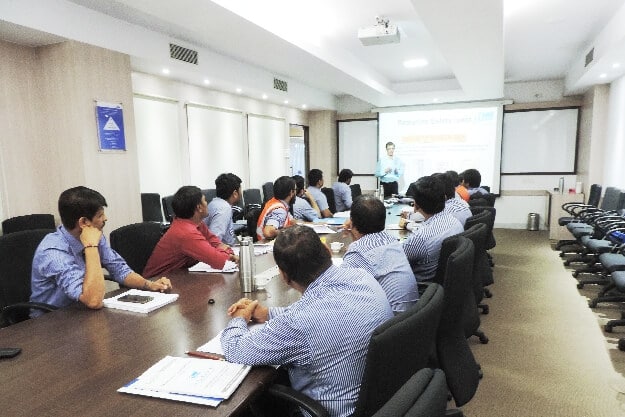 As per ASNT recommended practice SNT TC 1A, ISO and NAS410 there are 3 levels of certifications (Limited certifications also are available)
NDT Level I – A Technician that does actual tests as per Level II or III Instructions.
Limited Level 1 – Capable to carry specific job activities in his role. Ex: Ultrasonic thickness gauging
Level II – An Inspector, to do calibrations, testing, interpretation of results
Level III – An expert capable to establish techniques, procedures, training
Duties of NDT Level I Individual
As per SNT TC 1A of ASNT, below are the duties of Level I,
Shall have sufficient technical knowledge and skills to be qualified
Perform specific calibrations, specific NDT, and specific evaluations
Acceptance or rejection of components according to written instructions
To record test results.
Should receive requisite instruction and supervision from a certified NDT Level II or III.
Duties of NDT Level II Individual
An NDT Level II certified individual shall be able to
have sufficient knowledge and technical skills

be qualified to set up and calibrate equipment

interpret and evaluate results with respect to applicable codes, standards and specifications.

he/she shall be exhaustively familiar with the scope and limitations of the NDT methods qualified

shall exercise assigned responsibility for on – the – job training

guide trainees and NDT Level I personnel

organise and report the NDT test results
NDT Level III Responsibilities
As per ASNT recommended practice SNT TC 1A, an NDT Level III shall have

sufficient technical knowledge and skills for developing, qualifying, and approving procedures

establishing and approving techniques, interpreting codes, standards and specifications

designating the particular NDT methods, techniques and procedures to be used.

He/she shall be 

responsible for

the complete NDT operation for which he is qualified and assigned

capable of interpreting and evaluating results as per codes, standards and specifications.

with sufficient practical background in applicable materials, fabrication and product technology

able to establish techniques and to assist in establishing acceptance criteria when none are otherwise available.

In addition, he/she shall have general familiarity with other appropriate NDT methods, as demonstrated by an ASNT Level III Basic examination or other means. The level III, in the methods in which certified, shall have sufficient technical knowledge and skills to be capable of training and examining level I, II personnel for certification in those methods.
About Trinity NDT Certifications
We organize training courses leading to NDT certifications. A Worldwide recognized institute. Infrastructure for organizing Level I, II in all 6 methods. i.e. UT, MPT, DPT, RTFI, VT and ET.
Trinity NDT in India is a preferred testing services company for over 1500+ customers, you can even have on-the-job training.  For Hands on practice, each trainee is allocated an equipment. Not just the basic techniques, individuals will be exposed to all techniques. For example, Ultrasonic testing-UT course covers normal, angle beam, dual beam, DAC and DGS techniques.
Also, trainees will practice each of these techniques at our workshops. It is not easy to get such exposure with institutes that offer just training. For NDT Inspectors, quality of learning is the key. That is why, individuals from over 42 countries (Ex: Kenya, Angola in Africa) attended courses.
As NDT Labs are ISO9001 and ISO17025 accredited, trainees will get exposed to approved NDT procedures. Equipment is duly calibrated. Therefore, he/she can experience the real time ambience during the training.
ASNT Level 3 trainers have over two decades of experience. In association with TWI India, we offer ISO9712 certifications. For class room training, a world class Aspire Auditorium and for hands-on training Trinity NDT Labs. 15+ years experienced practical trainers. A supportive team to help in online registration.
Offering Level I, Level II courses as per SNT TC 1A of ASNT in India. Programs at our center and on-demand, can deliver training at customer locations. Recently organized NDT Level II certification courses at Azerbaijan and Nigeria. Trainers delivered over 220+ programs.
Mode of NDT Certification courses - Online & Offline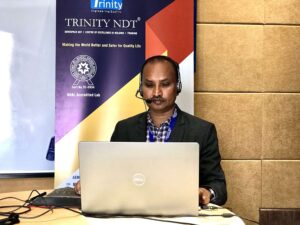 Though physically attending courses is a preferred, since two years online training is becoming popular. Lack of time, travel restrictions post Covid19, availability of technology made easy to do programs now on virtual mode.
Since early 2020, the institute has organized over thirty plus online NDT Level 2 courses. Online training is convenient for employee those who are unable to take our regular programs. Class room sessions are held through either MS teams or Zoom. Practicals are planned to give good practical exposure at our labs in India. This builds confidence. Now you can enrol and attend courses on virtual mode, without leaving your place of living.
Online Level 2 training course Timings: 06am to  8am and 6:30pm to 08:30pm.
Our Online courses helped individuals from Mozambique, Cameroon in Africa. Participation from even Saudi Arabia, Azerbaijan helped us to reach globally.
Organizing offline physical mode training. Reviewed as the best institute in India since 2001 we strive to maintain quality in our programs. Check course calendar to know about a schedule that is convenient to register. Once registered, the institute even provides accommodation. This helped individuals from Delhi and Patna(Bihar) to attend our courses. 
Eligibility and Fee for Certification
Duration of NDT certification Courses
Following is the duration (hours and days) for NDT Level II Courses
Ultrasonic Testing – 5 Days (40 Hours)
Magnetic Particle testing – 2 Days (16 Hours)
Penetrant testing – 2 Days (16 Hours)
Radiography Film Interpretation – 3 Days (24 Hours)
Visual testing – 3 Days (24 Hours)
Eddy Current testing – 5 Days (40 Hours)
Note: Course duration specified above is for NDT Level II for candidates with Level I certification. Individuals attending direct Level II shall add duration for Level I for each method.
We announce our offline and online NDT course calendar. This helps prospective candidates to register in advance. Foreigners can book for courses, to get invitation. Dates given in the calendar are normally not changed. Contact the Training coordinator to assist in course registration.
ASNT Level 3 trainer Profile
Trainers' profile is the key factor in evaluating quality of courses. Each trainer is a domain expert in the method. Over 20+ years of experience. Sectors of exposure: Oil and gas, Foundries, Cross country pipe line fabrication, Pressure vessel manufacturing, Forgings and Steel plants. Special NAS410 certified trainers with aerospace industry experience.
Expert ASNT Level III in six methods. CSWIP (TWI,UK) certified welding inspectors. Certified 'International Welding Engineer' (IWE) from International Institute of Welding. Each practical instructor has over fifteen years of doing nondestructive testing. Find background of ASNT Level III and IWE trainers.
Accommodation and Food during Stay
candidates enrolled for courses can book a hotel accommodation near Trinity NDT on google maps. Good number of hotels available within a radius of 5km. For individuals, who cannot afford hotel room can use institute accommodation at nominal charge of Rs.350 per day (Indians) and US$25 per day for others. Lunch is arranged during the training. However, candidates should get breakfast and dinner at nearby hotels.
Here is the easy procedure for NDT Course registrations. 7 easy steps for getting
For assistance, whats app the details or
contact us
. We mail the confirmation along with payment receipt on your email. Foreigners(other than Indians) should contact with their details for invitation. Visit Indian Embassy website in your country for visa processing.
Reviews and Feedback on NDT Certification
Mr Pradeep Kumar from Patna(Bihar) says, "I am previledged to pursue my NDT level II certification. Special thanks to Mr.Ravi sir, Mr.Shiva sir and all training coordinators for support. I really enjoyed each and every moments here and learned many things. I would recommend my friends and colleagues to Trinity NDT for level II and welder certification."
We profusely thank individual from Patna, Bihar for choosing our NDT training. He traveled all the way to the institute, successfully undergone the certification. He is presently working as NDT Level II inspector near Patna. Since earlier days of establishing the training center, we trained and certified at least hundreds of engineers from Patna, Siwan in Bihar. Institute also has instructors with Hindi speaking. This helped non English speaking engineers from Northern states of India such as Bihar and Jharkhand.
Organizing special practical training for non-English speaking personnel. We believe language should not be a barrier for learning NDT. Our courses helped engineers from Patna and Siwan for NDT Level II certifications.
Prof. Ravi Shankar K, faculty at IIT Madras(Chennai) expressed that "Perhaps, this is the best NDT and Welding training center in South
India. Their training in welding and NDT are unique and provide a rich experience to practicing engineers. Also, due to their extensive
in-house NDT testing infrastructure, they are the best in south India."
We thank the professor for his views about the training center. Though institutes in Chennai offers NDT Level II courses, quite a few offers training on modern equipment under expert ASNT Level III trainers. Chennai is hub for core mechanical jobs, we seamlessly connect with them with right employers in Hosur, Coimbatore in Tamilnadu.
A candidate Mr Rajesh from Mangalore writes that "I have joined this institute to take NDT training & knowledge purpose. My experience is excellent. Specially good NDT laboratory."
For more reviews watch Trinity NDT on Youtube.

Useful Short Term Certifications for Mechanical Engineers
NDT certification courses are useful short term courses for Mechanical Engineers. These courses are equally suited for Civil and Electrical, Electronics engineers. Training outline is designed for upgrading the skills of QA/QC engineers. With NDT Level 2 certifications, individuals can get jobs in oil, gas refineries, forging, casting foundries, QA/QC departments, Welding, Fabrication and Aerospace manufacturing companies.
Information about each course
Ten Reasons to Choose Why Trinity NDT Certification is the best?
Though there are number of organizations offering similar programs, Trinity NDT training programs are unique in the following ways,


A well-established Aerospace NDT Labs

Practicals at workshops on real components
Infrastructure for certification in six methods
Interactive sessions.
ASNT  Level III trainers with 20+ years experience
Online and offline training
Accommodation
Economical course fee
Register at your convenience – schedules throughout the year