Get your ndt & welding training at center near to you
Whether You are from India or Africa, we Can help you to Get Certified through our Centers.
Training Center Locations

In order to experience the best of NDT skill training, the centre should have experienced trainers, equipment, and a conducive atmosphere. At our center, candidates will experience the best of all worlds. training programs, available in online and offline modes. Online learners from Nigeria, Cameroon, and other African countries. The courses are easily accessible from India's nearby countries like Nepal, Bangladesh, and Sri Lanka.
Globalization has brought each one of us closer together. Interactions are more quick and effective than ever before. The options for learning NDT skills are many. Acquiring just a certificate may not bring big benefits unless you gain deeper knowledge and thorough practise of NDT techniques.
You must carefully select the right institute for your NDT training courses. At "Trinity NDT", we are a strong team of trainers and non-destructive testing and welding experts. We work with a passion to teach you the best content.
A Training Center for NDT Welding Skills

Today, Trinity Institute of NDT Technology is reviewed as the Best Institute for Learning NDT and Welding Skills in India, the Middle East, and Africa. There were also trainees from Lagos, Port Harcourt, Nigeria, Cameroon, Kenya, Ghana, Uganda, UAE, Dubai, and Saudi Arabia. Currently, Level 2 certification courses are being held in India in both online and in-person (0ffline) mode.
Our short-term courses on NDT and welding have been quite renowned for over two decades in India, Nigeria, UAE, Dubai, Cameroon, Kenya, Ghana, and South Africa. Mechanical QA QC Engineers from Nigeria, Kenya, and Ghana can take part in our online and offline physical training modules. Participation from over 40 countries has proved the quality and standard of the training center.
For over a decade, Nigerians, Cameroonians, and Kenyans have participated in our training for Level 2 certification. If you are from Port Harcourt, Lagos, Nigeria, Cameroon, Kenya, Ghana, South Africa or any other African nation, our certificate can add significant value to your career. LIVE Chat with us now on Whats app to find out more about the nondestructive testing or welding inspector courses. You can also ask us for online virtual training programs.
View the trainee reviews from Nigeria, Ghana, Cameroon, Kenya, and Uganda on our Youtube channel.
India's International Institute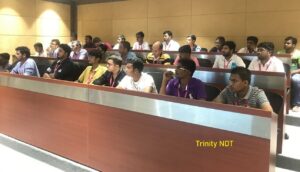 Candidates from Nepal, Bhutan, Bangladesh, Sri Lanka, and the Philippines are widely participating in our programme in India. So far, participants have come from African countries such as Angola, Cameroon, Nigeria, and Kenya, and are in the process of enrolling for training. Though the offline mode of training is of wider acceptance, online courses are becoming increasingly popular among trainees from outside India.
Training Center Locations in India & Nigeria (Africa)

India
Bangalore
Delhi
Hyderabad
Rajahmundry
Visakhapatnam
Patna – Bihar
Nigeria
The training institute is capable of conducting courses at centres across India, abroad and at the client's HRD and training centers. Presently, we organise NDT Level I and II Certification training courses and Welding Inspector exam preparatory courses. Specialized NDT and welding inspector training courses according to specific requirements can also be organised to fulfil the needs of the employers, customers, and participants.
Approval from PSUs, Govt. Agencies and Defense Organizations
The NDT certification courses have participants sponsored by leading technology organisations including Airbus, General Electric GE, Indian Space Research Organization-ISRO, and Hindustan Aeronautics Ltd.-HAL. Also, to name a few MNCs: Toyota, Siemens, UTC Aerospace, Mitsubishi, TVS Motors, Tata Motors, JCB India, Bharat Electronics, Dubai Airports, GMR, Vedanta.
Employer-Based Certification as per ASNT SNT TC 1A
We offer non-destructive testing Level 2 and Level 1 training courses as per ASNT SNT TC 1A. The most recent edition of ASNT-SNT TC 1A.
The following courses are offered throughout the calendar year: We also offer Welding Inspector courses and welders' training courses. Are you interested in knowing the next Level 2 schedule ? Log on to the NDT Training Calendar Schedules page to learn more about upcoming schedules. Before you register for the training, Check eligibility for the NDT Welding Inspection training courses.
International Training Center in Bangalore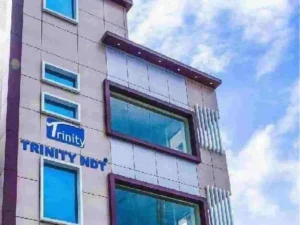 The Trinity NDT Aspire Complex is equipped with a state-of-the-art acoustic auditorium. The facility is NABL ISO17025 accredited and has a 5 tonne EOT crane for handling large engineering structures and components. There can't be a better place than this in India for learning and acquiring nondestructive testing and welding inspection skill sets.
Are you working and unable to participate in physical training? Well, we offer you well-suited online NDT training courses. You may contact the training coordinator now.
Click on each course for more information on the specific NDT and welding courses. Read more on reaching the specific course page.
Welders training courses on Various Welding Processes delivered from our Centre of Welding
How to Register?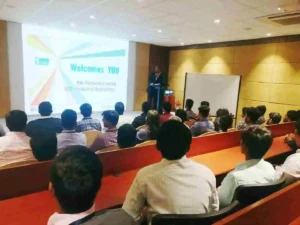 Each nondestructive testing course is designed to contain extensive practical sessions on each technique practised throughout the training at our Aerospace NDT labs in Bangalore, India. We can also help you get good accommodation at a nearby location for a comfortable stay at an affordable price. Contact the Training Coordinator.

Simple Steps to Register