Awards for Trinity NDT - Ranked as India's 10th Top Performing MSME by The Economic Times ET Rise
A Prestigious award from Indias leading media house The Economic times ET Rise MSME Awards 2021. We are awarded as Rank 10 in India's Top Performing MSMEs for the year 2021. The award certificate is a great recognition for our sincere efforts in serving MSMEs in India through our Nondestructive testing and Welding Services.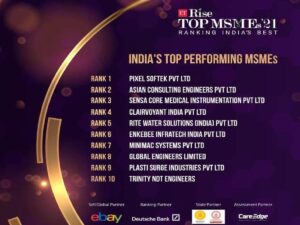 'Here is the complete list of 10 Top Performing MSMEs in India in ET Rise MSME Awards 2021 organized from Economic Times, India's leading Business Daily. There are two MSMEs from Bangalore in this list of companies.
'Shreshta Udyama Seva Puraskar' by Laghu Udyog Bharati Award 2022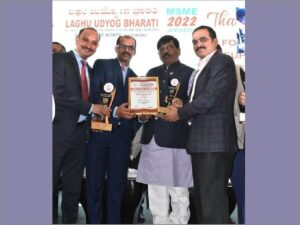 For outstanding quality Nondestructive testing services in India, honored with 'Shreshta Udyama Seva Puraskar' from Laghu Udyog Bharati Awards 2022. Presented by Sri Murugesh Nirani, Hon'ble Minister for Large and Medium Industries, Govt. of Karnataka in Bangalore.
Business Maestro Award 2022 from Tally Solutions, India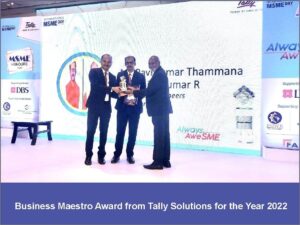 Being a resilient Nondestructive testing NDT company even during the pandemic Covid19, we have recorded highest growth in our services. Recognising our outstanding performance we have been awarded as  'Business Maestro for the year 2022' by Tally Solutions – A leading financial Software services firm serving MSMEs on digitization in India.
About NABL ISO17025 Accredited Labs
Started in the Year 2002, Trinity NDT Inspection Labs at Bangalore, Karnataka in India are NABL accredited ISO17025 certified for scope in Radiography testing, Ultrasonic testing, Eddy Current testing, Magnetic particle inspection and Penetrant testing. The NDT company is also approved by Centre for Military Airworthiness CEMILAC, Ministry of Defence Government of India, Hindustan Aeronautics Ltd HAL, Cairn Energy, Siemens, GE, L&T Aerospace and other leading engineering and aerospace companies. Download Trinity NDT – NABL Accreditation certificate
World Class Non-destructive testing & Welding Centre

Spread across whopping 24000 sq ft area with modern new labs and offices, today Trinity NDT is the fastest growing NDT & Centre of Excellence in Welding – Welding Inspection company in India serving clients from over 40 countries across the globe and large number of satisfied clients pan INDIA.
Mission, Vision and Objectives
With a clear mission, vision and objectives, team of experienced NDT Level II & NDT Level III professionals, certified Welding Inspection experts are taking the organization to new heights in term of capabilities. Know more about the Team Trinity NDT.
Experience Quality Services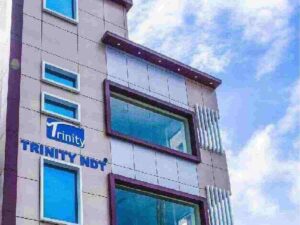 The modern NDT Testing Labs are fully specialized for Aerospace & Non-Aerospace NDT and are equipped with latest equipments, quality systems that meets ISO17025 NABL accreditation, well experienced team of NDT Level II / NDT III professionals for conducting non-destructive testing in Ultrasonic testing, Magnetic particle testing, Liquid/dye penetrant testing, Visual testing, Radiographic testing, Eddy Current testing, Radiographic film interpretation, Ultrasonic thickness gauging, Consultancy in NDT, welding, training and certification services on Welding and NDT.
Welding Inspection, Training & Consulting services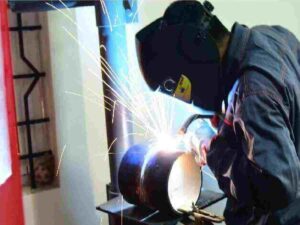 We also provide Welder Qualification tests, establishing WPS, documenting PQR WPQ, Qualifying Welders, Welding operators to international standards and codes. Consulting services to solve shop floor quality issues on Welding, establishing the welding procedures, train the welding man power to improve quality in fabrication companies. A centre of Welding is established at Trinity NDT campus to train the welders to meet industrial standards on Welding. Special training and certification coursesare designed and organized to train welders and welding inspection personnel. The training courses can be tailor made to meet the customer requirements and client specifications. Contact us today for support on Welding challenges
Skilling through NDT & Welding Inspection Courses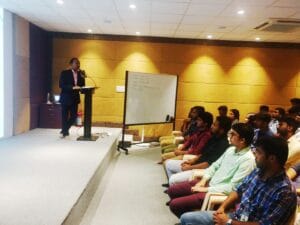 Skilling young engineers to get into NDT & Welding profession and upskilling the working professions to upgrade knowledge through our courses. With in-house NDT Level III trainers that design and organize the courses, our training center Trinity Institute of NDT Technologyis a place where our customers and participants confidently rely on, for quality NDT Training and certification and welding inspector courses. We are committed to driving the right behaviors in our customer's operations by our world class training and certification courses. The courses are carefully designed to give QA QC engineers, Mechanical Engineers, quality control inspectors and technicians the skills needed to excel in the field of NDT & welding.
Trained and certified participants from over 4o countries across globe and the certifications are set as bench mark for quality and widely recognized in industry. Know more about our Training Courses.
Established in India – Serving the World
Head Quartered at Bangalore India in the year 2002, Trinity NDT serves pan India and other middle east, African, European, South East Asian countries.
Organized successful Training courses in India at cities including Chennai Tamilnadu, Cochin Kerala, Mangalore Karnataka, Mumbai, Pune, Nagpur Maharashtra, Delhi, Gurgaon, Noida-NCR, Kolkata, Hyderabad Telangana, Vijayawada, Visakhapatnam(Vizag) Andhra Pradesh, Coimbatore, Trichy Tamilnadu, Goa, Raipur Chattisgarh, Bhubaneswar Odisha, Ahmedabad Gujarat
Global Participation: Non-destructive testing and Welding inspection courses attended by participants from over 40 Countries including Australia, USA, UK, Dubai, Russia, Thailand, Malaysia, Singapore, Israel, Papua New guinea, Nigeria, South Africa, Kenya, UAE, Saudi Arabia, Oman, Turkey, Yemen, Qatar, Philippines, Maldives, Sudan, Pakistan, Afghanistan, Bangladesh, Srilanka, Azerbaijan, Bhutan, Nepal, Iraq, Syria, Libya, Cameroon, Angola, Congo, Portugal, Uganda etc., For latest updates about Trinity NDT visit Ravi Trinity NDT Blog.
Know more about us Download Corporate Brochure, Training & Certification Courses Brochure