NADCAP Accredited Aerospace NDT Testing Services Labs
Aerospace Specialized NDT Center. NADCAP for MPI & FPI Facility in India.
Experience World Class Aerospace NDT Services in India. In Plant NAS410 Level III Experts.
NADCAP Accredited Aerospace NDT Service Labs. Serving Customers across India from Bangalore.
Trinity NDT Aerospace NDT Labs at Bangalore in India are NADCAP accredited in MPI and FPI testing. A special facility for testing components as per NADCAP aerospace NDT requirements. Nondestructive testing is considered as a special process and is an important technology to monitor and control the quality of components without affecting the future usefulness. This ensures safety and reliability as well. Therefore, it is essential to test every engineering component for quality before put into use. Also, NDT testing is the key to improve product design and to reduce the cost of production.
Demand for quality products and life expectancy is ever increasing. This enhances customer satisfaction thereby building reputation. Further, there are umpteen number of industrial accidents in the last century due to faulty products. Accidents brings devastation and causes immense economic and other losses. Nondestructive testing plays crucial role in identifying the defects at earlier stages, improving the quality of components, thus reducing the accidents.
This not only improves the safety of operation, but also eliminates forced shutdown of process plants and machines. NADCAP accredited Aerospace NDT Labs can ensure the special process meets the standard or customer requirements.
Aerospace NDT Inspection Services in Bangalore, India
Aerospace is the one of the key sectors that employs NDT to find defects in Aircraft structures. Safety of each component in aerospace is paramount. Therefore, stringent quality standards are in place for producing high quality products. Also, there is continuous demand to design lighter aircraft structures to increase fuel efficiency there by reducing pollution and to protect the environment.
Not just that, NDT testing of aircraft critical components during in-service inspection is common to continue the flight safe operation.
Therefore, large pool of NDT techniques and technicians will carry NDT tests during MRO of aircrafts and helicopter components.
Unlike other engineering areas, aerospace sector demands process control with highest standard. That is to say, inspection with NO compromise on the process quality. Also administration and competency testing of personnel carrying NDT testing for Aerospace is vital. Resolution of process issues immediately will hold the process under control so that the process does not fail and produce inadequate test results.
NADCAP Accreditation for Our Testing Center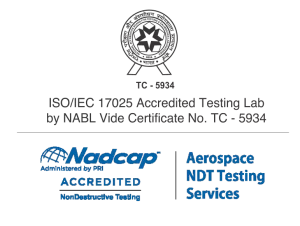 NADCAP (National Aerospace and Defense Contractors Accreditation Program) is an Industry managed confirmative assessment program. This program brings major Aerospace OEM companies, technical experts from Aerospace prime contractors, suppliers and representatives work together to establish NDT procedures and approve. This will standardize the approval process. Based on industrial consensus NADCAP approval is granted.
What is nADCAP Stands for?
NADCAP is the leading, worldwide cooperative program of major companies designed to manage a cost effective consensus approach to special processes and products and provide continuous improvement within the aerospace industry.
Nadcap accreditation has become a basic requirement in the Aerospace related Industries. Almost all major aerospace component manufacturers engage NADCAP accredited service providers to test the quality of products and structures.
The Nadcap NDT Task Group is responsible for the operation of the Nondestructive Testing NDT accreditation
program and are currently utilizing the following Nadcap NDT baseline checklists for accreditation in MPI and FPI testing for Aerospace at Trinity NDT – Aerospace :
AC7000 – AUDIT CRITERIA FOR NADCAP ACCREDITATION

AC7114 Rev N – Nadcap Audit Criteria for NonDestructive Testing (NDT) Suppliers Accreditation

AC7114/1 Rev M – Nadcap Audit Criteria for NonDestructive Testing Facility Penetrant Survey
Performace Review Institute – PRI is the global authority in facilitating industry managed programs such as NADCAP accreditation for aerospace industries. PRI offers accreditation in NDT, Heat treatment and many other areas for aerospace sector. Performance Review Institute, audits and accredits NDT suppliers to the aerospace industry through Nadcap program.
Why NADCAP Accreditation for Aerospace Special Process - NDT?
In Aerospace special process requirements, NADCAP Accreditation is needed to
Achieve greater consistency across the supply chain and throughout the industry.

Quality Improvements –An increasing percentage of Nadcap accredited companies report quality improvement in the area(s) related to their Nadcap accreditation(s)
Aerospace OEM organizations all over the world such as Boeing, Airbus, GE Aviation and Rolls-Royce work together with industry suppliers to agree to the standard that a supplier must attain in order to become and remain Nadcap approved. Also, aerospace companies will only sub-contract with Nadcap approved suppliers. Because, this is a globally recognized industry-wide standard of work ensuring that a part purchased from Beijing is of similar quality to a part originating from New York.
NADCAP Accredited NDT Labs in Bangalore, India
Trinity NDT is the leading NDT company in India for high quality professional services on NDT and Welding. The company received various certifications for its QMS such as ISO9001:2015 and ISO/IEC17025:2017. However, NADCAP accreditation is the most significant milestone for its Nondestructive testing services labs at Bangalore, India. Its one of the most stringent audit ever undergone that brought best quality in the process and competency of personnel engaged in testing. This reaffirms to Trinity NDT commitment for continuous improvement of its' systems and services for aerospace sector.
Scope of NADCAP Accreditation in NDT
In recognition of the successful completion of the PRI evaluation process, accreditation is granted to perform the following Nondestructive testing services at Trinity NDT Bangalore India:
AC7000 – AUDIT CRITERIA FOR NADCAP ACCREDITATION

AC7114 Rev N – Nadcap Audit Criteria for NonDestructive Testing (NDT) Suppliers Accreditation (For use on audits before 02 May 2021)

AC7114/1 Rev M – Nadcap Audit Criteria for NonDestructive Testing Facility Penetrant Survey (For use on audits before 02 May 2021)
MPI and FPI Testing Center in NADCAP Scope
Trinity NDT Labs in Bangalore have NADCAP (Special Process) accreditation in the following test methods
Magnetic Particle Inspection - MPI Testing for Aerospace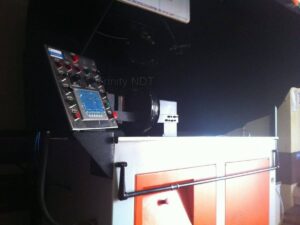 Magnetic Particle testing is suitable for component that are strongly magnetic. Such as Iron, Nickel and Cobalt alloys. The method is suitable for both crack detection during manufacturing and in-service inspections. It will detect both surface and to a certain extent subsurface defects on ferro magnetic materials. Various techniques are use such as Yoke, Prod, Central conductor, Head shot and coil shot. However, MPI testing of aerospace components limits the usage to only few techniques due to reasons aware.

Aerospace Nondestructive testing NDT labs at Trinity NDT, Bangalore in India has complete range of MPI testing facility. We provide services using Head Shot, Coil shot techniques for Aerospace with NADCAP approval. MPI equipment meets ASTM E 1444 latest standard. MPI Fluorescent technique gives better sensitivity and enhances speed of crack detection. We use consumables such as MPI powder and carrier oils that meet AMS aerospace standards.

Also, personnel with NAS 410 Level II will perform MPI testing services at Aerospace NDT Labs. An in-house NAS 410 Level III in magnetic particle testing to monitor the complete NDT processes, equipment performance and personnel certifications.

If you have a NADCAP accredited MPI testing requirement for aerospace components, contact us today.
Fluorescent Penetrant Inspection FPI Testing for Aerospace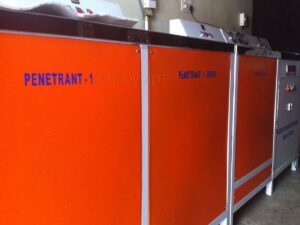 FPI testing is one of the major NDT method for testing of Aerospace components and structures. FPI testing detects surface opened flaws in non porous materials. Surface flaws are very minuscule flaws which are otherwise invisible to human eye. Lot many techniques are there in PT testing. Choose the right technique based on application.
FPI testing of aerospace component is completely different when compared to general PT testing. Because, quality of testing is all that makes the testing. Fluorescent penetrant testing FPI testing is most preferred for aircrafts inspection. Following sensitivities and Type 1 penetrant variants ( NADCAP Accredited) are there at Trinity NDT Aerospace labs for FPI testing.
Method A ( Water Washable Penetrant ) Sensitivity S2 & S3

Method B ( Post Emulsifiable Penetrant ) Sensitivity S4
Know more about FPI testing services for Aerospace NDT
The modern Aerospace FPI testing services facility at Bangalore, India has excellent ground setup that meets almost all aerospace standards. Also, personnel with NAS 410 Level II will perform FPI inspection for Aerospace. An in-house NAS 410 Level III in FPI testing to monitor the complete FPI testing processes, equipment performance and personnel certifications.
Serving Aerospace Manufacturing Customers in Bangalore, Hosur, Hyderabad. Also, serving Chennai, Pune and Clients Across India