Renewal or Re-validation of Your NDT Certificates is Now Easy.
Quick & Easy Way to Renew or Revalidate Your NDT Level 1, Level 2 Certificates Online.
All NDT Level2 and Level 1 personnel need to renew their NDT certifications to maintain the certification status. Renewal procedure depends on the certification scheme. As per ASNT SNT TC 1A, the employer is responsible for maintaining NDT certifications as per written practice. Also, employers can use outside NDT Level3 services to renew the NDT Certificates of their employees. For example, Trinity NDT can provide such Level 2 renewal services. Quick contact us on whats app chat Now. Trinity NDT institute will give renewal services from India. You need not visit the office for renewal except for reexamination as per employers written practice.

How to renew your NDT Certifications?
It's simple and easy. Here are the steps:
First, check if the certification is active. Your NDT Level 1 or Level 2 certificate should be in valid status.
Verify if you have continuous experience in the NDT method.
As per SNT TC 1A, all levels of NDT personnel shall renew or re-validate periodically as per employers' written practice.
Test your eyes for near vision and colour vision. Download Eye Fitness Document
Finally,

contact your employer to initiate renewal

procedure.
If you are a freelancer, Level 2 contact us directly. Download Renewal Form.
NDT Certification renewal Services from Trinity NDT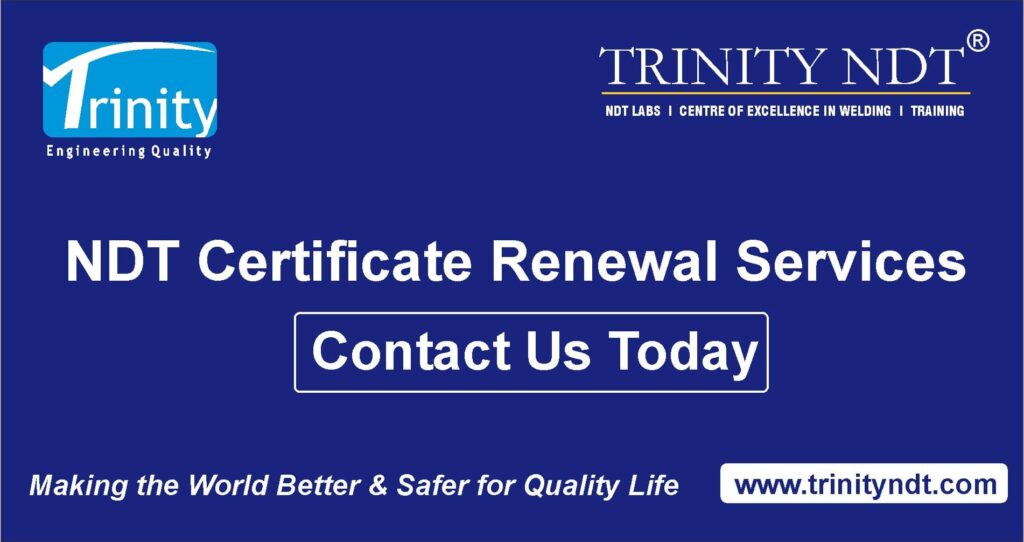 The institute can help you to renew your NDT Level 1, 2 certifications. Moreover, renew without visiting our office. Employers can reach us for our NDT level 3 services. In addition, we prepare and approve written practice as per SNT TC 1A. In short, we offer quick and easy renewal or re-validation of your NDT certifications.
Also, we provide our ASNT NDT Level 3 consulting services. In general, the RENEWAL of Level2 certificate procedure will take three to five working days. And could be even faster depending on documents and proof submission from the employer.
ASNT NDT Level 3 Consulting Services
Trinity NDT has in house ASNT NDT Level 3. That is to say, we offer training, certification and renewal services in the below methods:
We provide our NDT services in all major cities in India. For example, we serve at Delhi, Mumbai, Chennai and Hyderabad in India. Also serving Middle East and Africa. Therefore, if you want to have an NDT Level 3 consulting services to meet SNT TC 1A, contact us today. We can train and certify your engineers to NDT Level 1 or Level 2. Also, can help you to renew certificates as per written practice.
NDT Level 2 Renewal Requirements
Maximum re-certification interval is 5 years (as per ASNT SNT TC 1A) or 3 years (as per ASME) for all the Level 1, 2, Level 3 certifications. Revalidation is in accordance with any one of the following criteria.
Evidence of continuing satisfactory technical performance in the method.
Reexamination as deemed necessary by the employer in the portion or portions thereof
Candidates requiring renewal of their NDT certificates can Download the application form. Fill up the form and send us with the following documents
Experience certificate from the employer/s since the last validation
Eye fitness certificate in the specified format. Download Eye fitness document.
Contact ophthalmologist nearest to you. After eye testing, submit the signed document to us.
Fee for re-validation by online payment gateway. Pay now online.
Please note that the institute has every right to verify your NDT experience and other documents before renewal. If the applicant is unable to renew his NDT certificates, within the expiration date, he has to appear for re-examination in the method/s. Therefore, we advice you to contact us well before the expiry date. If you are a NDT Level 2 from Trinity Institute of NDT Technology, Bangalore India, check your NDT certification expiry here.
Fee or Cost of renewal | NDT Level 2 Certificates
We charge nominal cost for NDT certificates renewal. Certainly, our re-validation price is lowest in the industry in India. To sum up, to know fee for renewal for NDT Level 1 or Level 2 contact us now or call +91 9141339994
Quick Procedure for NDT Certification Renewal / Re-validation
E-mail us your Renewal request. Also, send us scanned copies of your NDT certifications.
Fill the form, attach required documents as per Check list. Send us the form along with renewal fee
You can collect renewed certificates (free for India) or request us to send by speed post or courier
In case of urgency, we can mail you a scanned copy
If you are working in abroad, we can send by DHL. Cost of courier at actual will be extra for places other than India.
Also, we maintain your NDT certification validity status at website. Check your NDT certificate status.
For further assistance, call us on 98441 29439 / 9141 33 9994 or whats app us on +91 98441 29439 or contact us.
Do you want to add more NDT Level 2 certifications through training? We offer the best training as per SNT TC 1A and ISO9712. Know more about our NDT courses in India or you can Write us today