Magnetic Particle Testing (MPT) Training Courses.
Magnetic Particle Testing MPT level I, II training & Certification courses
This is a special course for learning Magnetic Particle testing by the Institute. MPI testing also known as magnaflux testing in India. MT Level 2 and level 1 trained operators can do testing and certify materials for soundness.
The course is designed to give adequate skills to carry magnetic particle inspection in shop floor. Level 1 technicians are trained to perform testing. In addition MPI Level 2 inspectors can interpret and evaluate the results on their own after the certification.
The course on magnetic particle inspection has blend of class room and hands on practice. It has significance in automotive, pressure vessel and aerospace sectors. A widely used test method for testing ferrous materials for surface and subsurface defects.
Trinity NDT Labs are equipped with aerospace approved magnetic particle testing equipment. As we do live MPT testing at the labs in Bangalore, you can experience good hands on practice. ASNT Level 3 trainers have good experience on field. Practical training trainers are experts in testing for aerospace standards. Therefore, the training can give the best skills. MPT technicians can be directly engaged on job after training.
MPI Training as per ASNT SNT TC 1A written Practice
Our Courses are based on ASNT SNT TC 1A. It is an employer based certification scheme having wider acceptance. Also we offer certification based on ISO9712 scheme. Schedules, Fee and Eligibility for certification schemes is different.
Find more details on What app Start Live Chat.
Magnetic particle inspection called MPI inspection or magnetic crack detection is one the most widely used Nondestructive testing method. It is used for inspection of ferro magnetic materials, components and structures made of Iron, Nickel and Cobalt alloys.
Training Center at Bangalore in India
We conducting Magnetic particle Inspection MPT testing training courses in Bangalore. Participants from Hosur, Mysore, Mangalore, Hyderabad, Patna-Bihar, Chennai, Cochin, Ahmedabad and also Delhi NCR. 
Trinity NDT training Institute is considered as the Best learning courses Institute for MPT test training in India. Whats App Now.
Onsite MPT training at Customer Places
You need not travel to us if you have more Level 2 or Level 1 MPI technicians to train. We are even equipped to serve at your location. We provide both in-house and onsite certification courses in India, Middle East, Europe and Africa. If you need Level 1 or Level 2 training as per SNT TC 1A, and have training infrastructure, contact us today to schedule a course near to you.
Our trainers will travel and deliver the magnetic particle testing courses right at your plant, workshop location. We have successfully organized such courses at customer locations in India, Dubai, Saudi Arabia, UAE, Nigeria, Kenya, Cameroon, Ghana, Angola, South Africa.
If you are looking for organizing a course on MPI testing right at your location contact us today. Live Chat now on Whats App.
Options to Attend Online live Courses
Scheduling Online course for the convenience of out station candidates. We have upcoming online magnetic particle Level 2 training. It will be held in hybrid mode. Class room lectures online and practical training in physical mode. This will help working QA QC engineers to certify on MPI testing Level 2. Engineers from over 42 countries are attending our online modules.
About Magnetic Particle Testing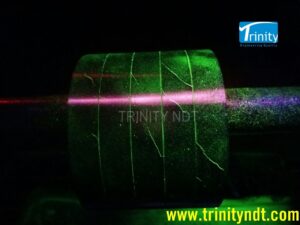 Magnetic particle testing method detects surface and subsurface discontinuities. The depth of detection varies considerably from material to material. It is based on magnetic permeability, strength of magnetic flux generated, magnetic particle properties, sensitivity desired and orientation of discontinuity.
Although test method can prove sensitivity up to 14mm under ideal conditions, but in actual practice the sensitivity is much lesser. Our MPI training facility is serving candidates from Hosur, Mysore, Mangalore, Delhi, Hyderabad, Patna, Cochin and Ahmedabad apart from lot many other cities in India.
MPI inspection method is used for testing Automobile components, railway components, engineering components, shafts, gears, forgings, castings, plates, bars, rods, rolled products. It is also applicable for cylinders, pistons, hydraulic components, pressure vessel and boiler components, welded joints, Aerospace components, mining, oil and gas pipe line construction, storage tanks, bridges etc.
Also this method detects fatigue cracks during in-service discontinuities effectively. MPI equipment such as Permanent magnets, yokes, bench type with head shot technique, central conductor and coil prod technique are common. MPI testing method also can be suitable for automation to test mass production components for detecting cracks and other anomalies.
About MPT testing Courses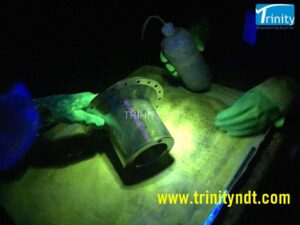 Testing[/caption]Operators can be certified to Level I and Technicians can be certified to Level 2. The quality and course outline for each this MPI course is precisely designed by NDT Level 3, monitored delivered by experienced expert trainers. Hands on practical sessions are part of the course.
Level I Course Objectives
To provide a sound Knowledge of Magnetic particle Testing to enable a participant to carry out tests according to a established procedure. The course is especially designed to provide practical skill for MT required for a level I technician.
MPT Level I Operator Responsibilities
To carry out operations as per written procedure/instruction from level II personnel. He shall be able to set up equipment, calibrate and carry out tests, classify and report the results. He shall not be responsible for the choice of test MPI technique nor for assessment of the test results.
MPT Level I Course Outline
Basic of Magnetism
Magnetisation Techniques
Inspection Mediums
Inspection Techniques
Indication Classification
Test Equipment and Accessories
Demagnetisation
Types of Discontinuities
Practical training: Yokes, Prods, Headshot, Central Conductor, Coil Techniques, Using dry, wet ordinary and wet fluorescent powders, Demagnetisation.
Level 2 Courses Objectives
The course is intended to provide detailed instruction in theory and practice such that the personnel shall be able to
Identify suitability of MT for material and inspection procedure.
Develop inspection techniques and procedure that shall be followed by level I operator.
Analyse the test results.
To select proper test technique and equipment
To calibrate, set and carry out test
Prepare test report
Have knowledge of merits and limitations of MT
Prepare written procedure
Care and maintenance of testing machine
Course Outline for Level II
Review of Level-I course
Selection of Techniques
MPI Codes, standards and Procedures
Acceptance Standards
Manufacturing Process and Discontinuities
Interpretation of Indications
Preservation of Indications
Evaluation of Test Equipment
Practical training: Same as Level-I + Interpretation, evaluation and recording of test results. Magnetic Particle testing Training Brochure: 
Download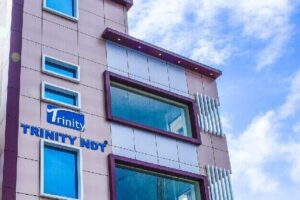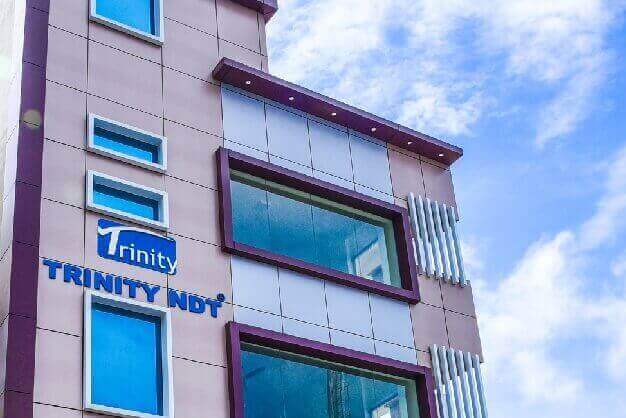 Courses are organized at International training center in Peenya Industrial Estate, Bangalore, India. We also are capable to serve the customers at their works. Trinity Institute of NDT Technology also conducted NDT training certification for Level I & II and Welding inspector training. Based on requests from the clients at India, Delhi in NCR, Mumbai in Maharashtra, Chennai in Tamilnadu, Kolkata in West Bengal, Hyderabad, Cochin in Kerala, Ahmedabad in Gujarat.
Also training organizing at Gurgaon in Uttar Pradesh, Pune, Goa, Nagpur in Maharashtra, Vizag in Andhra Pradesh and Vijayawada.  Bhubaneswar, Ranchi in Jharkhand, Bhilai, Mangalore, Belgaum in Karnataka. Coimbatore, Cochin in Kerala, Bhopal, Jaipur in Rajasthan, Patna in Bihar, Jalandhar in Punjab in India.
If there are sufficient strength of personnel, Trinity NDT can depute trainers to provide onsite, on-job, in-house training on NDT Level 1 and Level 2, for Magnetic particle inspection level 2 training programs. Course contents can be tailor made and designed to meet specific requirement of customers.
Recognized International Institute for MPT Certification
Our courses have won international reputation and over 40 country nationals have attended the certification courses with us. Nationals from the following countries have undergone training with us: India, Papua New guinea, Nigeria, South Africa, Kenya, UAE, Saudi Arabia, Oman, Turkey, Yemen, Qatar, Philippines, Maldives.
Also MPI training participants from Pakistan, Afghanistan, Bangladesh, Srilanka, Azerbaijan, Bhutan, Nepal, Iraq, Syria, Libya, Cameroon, Angola, Congo, Portugal, Uganda etc.,
Trinity NDT certification training courses are rated as best quality in terms of modern infrastructure, NDT workshops/labs and equipment & accessories for practical, eminent trainers by the training participants and reviews on our courses can be read online at our Facebook page. Visit our training schedules page or course calendar for upcoming training schedules.