SPECIALIZED AEROSPACE NDT LABS
World Class Aerospace NDT Infrastructure Approved by Aerospace OEMs
Testing Facilities at Trinity NDT, Bangalore, India
Radiography testing, X-ray Inspection, Ultrasonic Testing, Eddy Current testing, Magnetic particle testing, Fluorescent Penetrant Inspection FPI testing and Visual testing.
Labs and office spread over whopping 24000 Sq.ft of area, Trinity NDT modern facilityis specialized in Aerospace NDT. Aerospace NDT Labs are approved by CEMILAC – Centre for Military Air Worthiness, DRDO, Ministry of Defence, Government of India, Hindustan Aeronautics Ltd – HAL, Bharat Heavy Electricals Ltd, BEML Ltd, L&T Defence, General Electric GE, Indian Space Research Organization-ISRO, National Aerospace Labs NAL, ADA, ADE and other leading companies.
Trinity NDT Labs are equipped with equipment, NDT procedures that meets Aerospace Standards on FPI testing, MPI testing, Ultrasonic testing, Radiography testing, Eddy current testing and visual borescopic, fibrescopic inspections. Our NDT professionals are highly skilled and certified to International Standards and have wide experience on testing of Aerospace components and structures. In house NDT Level III professionals are certified by The American Society for Non-destructive testing, ASNT, USA to ASNT NDT level III in Ultrasonic Testing UT, Magnetic Particle testing MPI Testing, Penetrant testing – FPI testing, Eddy Current Inspections ET testing, Radiography Testing RT Testing, X-Ray Testing, Visual & optical methods.
Aerospace FPI Testing Labs in India
NABL ISO 17025 accredited
Capability for using Type 1 Fluorescent &Type 2 Visible Penetrants
Post Emulsifiable – Lipophilic & Hydrophilic Emulsifier Techniques
Water Washable, Solvent Removable Penetrant Techniques
Systems designed for Penetrant sensitivities upto S4 for Aerospace applications
FPI testing consumables are exclusively sourced from MagnafluxCorporation, USA
Experienced and skilled NDT Level II professionals to perform reliable Aerospace NDT
inspections& In house ASNT NDT Level III professionals for approving systems & procedures
Equipped with cracked TAM/PSM panels for control checks
Calibrated Visible light and Black Light Radiometers
Pre-cleaning is vital for reliable Penetrant Inspections. Considering the importance of this crucial process, we are equipped with State of Art Pre-cleaning facilities that includes large Ultrasonic cleaning and Alkaline, detergent Cleaning equipmentthat meets Aerospace Material Specifications – AMS Standards, ASTM Standards & other international standards.
Stationery FPI equipment to meet aerospace standard ASTM E1417 and labs are very unique of its kind to perform testing using Water washable, solvent removable and post emulsifiablepenetrants of various sensitivities. Our NDT Level II skilled professionals have excellent experience on inspecting critical Aircraft components and exposure to Aluminium, Magnesium, Titanium and other alloys inspection. To maintain the quality systems to global standards, our Aerospace FPI testing Labs are administered and controlled by experiencedin-house ASNT NDT Level III professionals.
MPI testing Lab in India the Meets International Aerospace Standards
NABL Accredited ISO 17025 certified Non-destructive Testing – NDT labs in India
Stationery MPI Equipment that meets ASTM E 1444 standard and other international standards, customer specifications on Aerospace MPI testing
Capability for testing using Alternating Current AC, Half wave Direct Current HWDC, Full Wave Direct Current FWDC
Currents up to 6000A for testing large size components
Overhead crane of 5T capacity for handling heavy components
Variable magnetization shot duration up to 2 seconds
Calibrated Hall Affect Gauss meters, Keto's rings, UV & Visible Light meters
Experienced and skilled NDT Level II in Magnetic particle testing professionals to perform testing and interpretations and ASNT NDT Level III for maintaining systems and procedures.
The equipments and MPI procedures meets international standards including most widely used standard ASTM E 1444. Every NDT professional is thoroughly trained to give reliable test results within the quickest delivery time. In house Magnetic Particle Testing MT Level III approves the test procedures, control checks on regular basis to ensure consistent test results.
Aerospace Radiography Testing– X – Ray Labs& Radiography Enclosure
NABL Accredited ISO 17025 certified Non-destructive Testing – NDT labs for Radiography RT testing in-house and onsite
RT Lab Enclosure facility approved by Atomic Energy Regulatory Board AERB, BARC, Govt. of India
Modern Radiography enclosure to serve the customers 24X7
Gamma Ray & X-Ray testing facilities
Sourcing of films only from AGFA to maintain consistence in quality of every RT test
Experienced team of professionals having great exposure to Castings and Welding Radiography testing
Quick delivery of test results to meet your production and delivery schedules
Certified Radiological Safety officer RSO, BARC Level II to ensure safety of the Radiation facility round the clock
In house ASNT NDT level III in RT testing for approving the procedures and maintaining qualitysystems
5 T EOT Overhead crane to handle large castings and other heavy components
Built to maintain safety to world class standards, Radiography Enclosure can be used to carry outtesting 24/7 to deliver Radiographic Films and Test results within record time without affecting the quality of radiographs. Experienced NDT Level II professionals are engaged in interpreting the films to international standards and acceptance norms. In house Radiological Safety officers RSO & NDT Level III professionals ensure the quality of testing to meet customer requirements and maintain Safety Standards round the clock.
Ultrasonic Inspection of Metals, Non-Metals& Composites for Aerospace
Ultrasonic Flaw detectors for testing Metals & Composite materials for Aerospace applications
Evaluations using DAC DGS techniques
Proficiency in UT testing to Latest standards
Experienced UT level II professionals thoroughly trained to evaluate castings and critical weld joints
Ultrasonic testing ASNT NDT Level III professionals for procedures approval and overseeing the complete Ultrasonic Inspection facility.
UT testing facility is equipped with latest flaw detectors, Ultrasonic thickness gauges, FBH calibration blocks, DAC DGS capabilities and specialized labs for Composites testing.
Eddy Current testing for Aerospace
NABL Accredited NDT labs in Eddy Current testing
Exclusive ET Labs for Eddy Current testing
Imported Equipment for reliable automated bolt holefaster hole inspections
Reference blocks and calibration samples that meets international standards
Capabilities include crack detection of conducting materials, thickness gauging, material sorting/mix up based on chemistry, heat treatment condition, hardness, conductivity, paint thickness measurement, thickness measurements on nonconductive coatings on conductive materials and conductive coating on conductive materials
Experience in sorting materials – Over millions of components sorted so far for automobile and other engineering component manufacturers
Highly skilled ET Level IIs and ASNT NDT Level III professionals
Eddy current labs are facilitated with calibration blocks and reference standards such as Conductivity standards, EDM notch standards for crack detection for Aerospace applications. Experienced NDT Level II professionals on Eddy Current testing are engaged to perform the tests and evaluate the results. In house NDT Level III professionals on ET will ensure the test systems at Trinity NDT labs are approved and strictly followed to meet global standards.
We are in process of adding more NDT methods such as Borescopic and fibrescopic inspection for aerospace applications. With Trinity NDT, it is assured that the procedures, systems, equipments and personnel engaged in testing meets NABL ISO17025 and global Aerospace NDT Standards and customer specifications and committed to deliver quick and reliable test results.
Contact us NOW for your Aerospace NDT Testing Requirements and visit our labs to explore WORLD CLASS NDT facilities AT TRINITY NDT in India.
Equipments for Aerospace NDT Facilities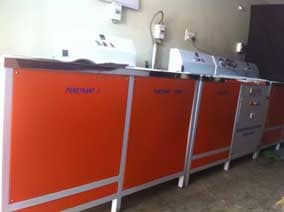 Aerospace Liquid Penetrant Inspection Stationery Equipment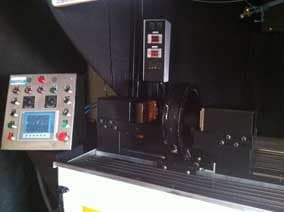 Aerospace Magnetic Particle Inspection Equipment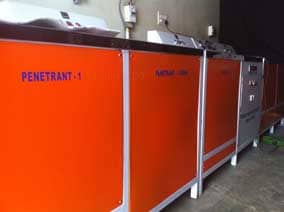 DPT Post Emulsifiable Water Washable Tanks for Aerospace NDT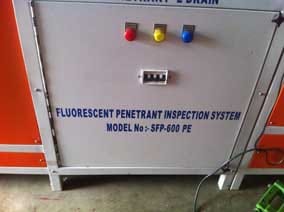 Dye Penetrant Testing Equipment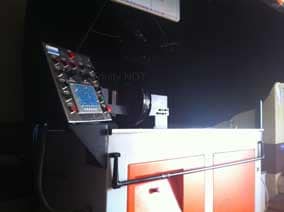 Magnetic Particle Testing Inspection Equipment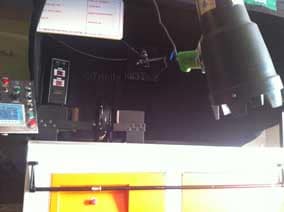 MPI Equipment for Bars Crack Detection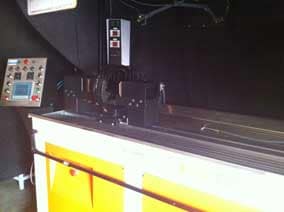 MPT Equipment for Bars Rods Forgings Inspection AC DC HWDC currents