NABL Accredited Radiography Testing (RT) Lab. X-ray Enclosure.
The Fastest Serving NDT Company In India. NABL Accredited. Aerospace Quality X-ray Facility.
Experts in Industrial Radiography of Welds & Castings. 24X7 RT Services in Bangalore.
Radiography Testing Enclosure Facility in Peenya Bangalore. AERB Govt of India Approved. NABL Accredited Lab. Onsite RT Inspection Services in Hosur and Mysore. Over 1500+ Satisfied Customers in India.
Trinity NDT is established in the year 2001. We are an independent NABL Accredited NDT Lab accredited as per ISO17025:2017. Providing Radiography X ray testing services from our RT Testing Center in Peenya Industrial Area, Bangalore in India. We serve over 1500+ customers across India.
Our X-ray radiography testing labs completed over 500+ projects. This includes RT testing of cross country pipeline welds and castings inspection. Can do on-site inspections for components of larger in size which are difficult to be transported to our NDT Labs in Peenya.
Radiography testing(RT) enclosure in Bangalore serves customers 24X7. Have good experience in X ray and Gamma Radiography (Iridium 192 Source) Inspection of Welds, Castings, Pressure vessels, Pipelines and Boiler Weld joints.

The Radiography labs are approved by Directorate of Factories & Boilers (Boiler Inspector), Government of Karnataka. Therefore, Boiler component suppliers can use our IBR approved NDT lab for x-ray Testing.

Our RT labs are licensed from Atomic Energy Regulatory Board (AERB), Government of India, Mumbai. This is the largest x-ray enclosure of its kind in India. Center is especially designed to handle Radiography of welds and castings. A 5 tonne EOT crane available for handling large welded structures and bigger size castings.
Structures that could not be transported to Radiography Labs in Bangalore can avail on-site RT testing service. The site shall be evacuated and Radiation safety norms shall be followed. For this, you may contact our 'Technical Manager'. Give us advance information to plan for visit and to get necessary approvals from AERB, Mumbai.
Looking for trusted quality Radiography testing Service in and around Bangalore or Mysore? Call us today and experience our award winning radiography x-ray services.
Experts in Castings and Weld radiography services.
RT Enclosure in Peenya Industrial Area, Bangalore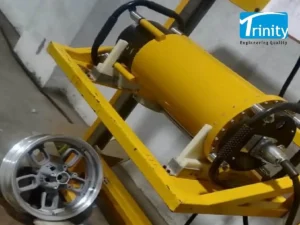 Our Radiography testing labs at Peenya in Bengaluru are equipped with X-ray and Radioactive Isotopes for castings and weld inspections. RT Level 2 technicians does the radiography. In house ASNT Level III monitors interpretation of x-ray films. With this, you can 100% trust the results. 
X-ray labs are NABL, Delhi approved. Examination results are globally acceptable. For interpretation of castings, reference radiographs as per ASTM E446 are available. 
Inspectors are knowledgeable to do radiography as per ISO, ASTM, ASME & BE/EN standards. Due to quality of services, we are the first choice for majority of companies. If you have large bulk size casting or weld structures we can mobilise teams for onsite RT tests.
Radiographers have excellent on job experience.  They carry challenging jobs such as inspection of pipe line weld joints, testing of electronic component to find the assembly errors.
Whether it is pressure vessel, boiler or aerospace component, we can do the X-ray testing to your satisfaction. Check our fastest radiography NDT services today.
Why Radiography Enclosure?
Radiography Enclosures helps to carryout inspections in the safest conditions. Onsite testing has associated safety hazards. This includes evacuation of work men from the site. This hampers production schedules. In addition, transportation of radiation source to the site requires prior approval from AERB, Mumbai. For that reason, where it is practicable to transport the component, RT testing is performed in X-ray enclosures.
This also helps to maintain safety during radiography. Enclosures are typically located at industrial areas are safer places for radiographic inspection compared to open field testing. 
Enclosures are operational 24X7 to serve customers on time. X-ray enclosure is approved by Atomic Energy Regulatory Board (AERB) Mumbai and operational since 2018. Facility is specifically designed by BARC experts on Industrial Radiography.
That is why we prefer our customers to send the materials to our enclosure for quickly performing the Radiography.
NABL ISO17025:2017 Accredited RT testing Xray Labs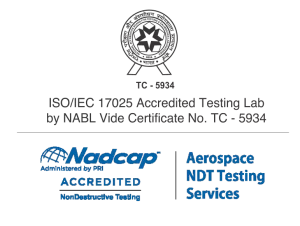 With NABL accreditation for our Radiography X-ray testing labs, results are genuine and trust worthy. Customers rely on our RT testing services for quality. View and download Trinity NDT – NABL accreditation certificate and scope.
Since the year 2001, we serve over 1500+ customers in India. Also, quality of Radiography X rays can meet aerospace NDT standards. Our NADCAP accredited labs serves on MPI and FPI testing of aircraft and space structures.
We use both Iridium 192 and X ray equipment. Well experienced Radiographers and RSO, ASNT and NAS410 Level 3 experts.  Before start of testing, a BARC Level 2 Inspector prepares shooting sketch. NDT Level III will review and approve the same. There after, he establishes procedure for carrying testing. Every radiography exposure is ensured to follow right film, technique, exposure parameters.
Serving our clients at both in-house and onsite services. As some of the weld structures and castings are heavy to move, 5T EOT crane at our labs, can support the testing at RT enclosure. For onsite radiography testing in and around Hosur and Mysore you may call us now.
Also, we are in the process of adding Digital Radiography DR System shortly. Our other NDT services: Ultrasonic Testing, Magnetic Particle, Dye Penetrant, Visual inspection, Eddy Current testing and Welder Qualification WPS services. Find more about NDT testing Labs. 

IBR Boiler Inspector Approved Radiography testing Services. Onsite X-ray for Boiler Weld Joints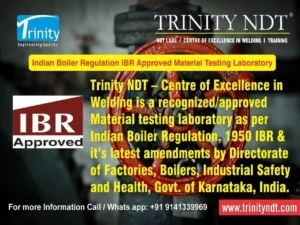 Indian Boiler Regulations – A mandatory industry rules for construction of boilers in India. If you are a boiler manufacturer or service provider it is mandatory test components as per IBR. This needs, performing materials testing at IBR approved material test lab. Our RT testing labs and NDT center at Bangalore are approved by The Inspector of Boilers, Government of Karnataka. our IBR approved Radiography X ray testing labs are located in Peenya Industrial Area, Bengaluru.

Also, we have IBR approved material testing lab for mechanical testing of Boiler materials. The labs can do testing of welds as per IBR regulations and even qualify welders. In addition, Center of welding provides consulting for WPS, PQR, qualification and certification of welders as per IBR. Find more about WPS IBR Welder Certification services.
AERB, Govt of India Licenced RT Enclosure in Bangalore
It is a unique nondestructive test Lab of its kind for X ray radiography services in the state of Karnataka in India. Designed to meet requirements of AERB, it is one of the best x-ray enclosure facility. An AERB licensed institution using Gamma and X ray equipment. 5T EOT crane for handling big components inside Radiography enclosure.
Radiography enclosure can operate up to 100 Curie of Iridium192 source. Cameras carry sources under safe conditions. X-rays provides superior quality images. With built in radiation safety, it is one of the finest Radiography X ray center giving serving Hosur and Mysore.

How to choose between X-ray and Gamma Ray?
Though both x-rays and Gamma Rays are part of electromagnetic wave spectrum, there are few differences. Choosing x-ray and gamma radiography is based on quality level desired and cost of testing.
Unlike Gamma Rays, x-rays generated in a cathode ray tube. When highly accelerated electrons are striking the target in vacuum, x-rays are emitted. These rays are having different energies based on target material and energy of tube. Consequently, there are a number of rays having a spectrum of energy emitted from the x-ray tube. 
Whereas, Gamma Rays are generated by a radioactive isotope such as Iridium 192 or Cobalt 60. Each isotope emits a specific one or more energy rays. Thus, radiographer has little or no option to control the energy of gamma rays.
Gamma ray testing do not require electricity to produce. Thus, can be performed onsite at remote locations. Whereas, x-ray essentially requires electricity to produce. Generating tubes are fragile and requires utmost care while transporting to sites. Another problem is voltage fluctuations onsite that may alter or damage x-ray tube onsite. 
X-ray are filtered to eliminate unwanted low energy waves. Filtering of rays is needed to improve the quality passing through the material. Therefore, these rays are selectively filtered to get the optimum quality.  For this reason, images generated by x-ray radiography are far superior in terms of sensitivity and contrast. However, the cost of radiography is higher when compared to gamma radiography.
In conclusion, If you need quality images, it better to go for x-ray radiography provided the cost is within the budget.
Dark Room for film Processing
Digital imaging is picking up at a faster pace, still film radiography is dominant in industrial applications. After exposure the films shall be processed in a dark room under controlled conditions. 
Film processing converts invisible (latent) image to visible image that is suitable for interpretation. To get consistency in results Dark room processing of X ray film is vital. If not adequately controlled, improper film processing causes Film artefacts. Therefore, our skilled RT technicians process films with extreme care.

Selection of X ray film quality depends on customer needs. In general we use D4 and D7 type films. However, based on need, we can also use any other quality x ray films as per agreement.
Various types of x-ray films are available that vary in signal to noise ratio, speed of response to radiation and graininess. It is appropriate to classify films in relation to signal to noise ration.
Fine grained films have high signal to noise ratio. Consequently these films require comparatively large radiation qualitities for exposure. This gives excellent quality resolution detail. In the choice of film, a trade off is made between resolution and speed of exposure. Criticality of component determines the level of trade-off.
In Industrial Radiography of castings and welds Agfa D7 films are used. For critical pressure vessel and boiler welds, Agfa D4 film are used.
Onsite Gamma and X ray testing Facility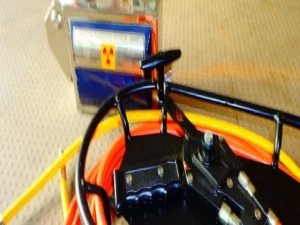 Castings and Welds are tested for flaws using x-ray radiography. For example, steel and aluminium castings are tested to find internal flaws. Our team for onsite radiography testing is ready with all the equipment. Even, we do inspection at our in-house RT enclosure. Now, we can provide Composite X ray testing for aerospace as well. Now a days, RT testing of assembled components is done to find interior missing parts.
Onsite radiography avoids movement of materials to our labs. However, prior approval of site for radiation safety ensure untoward incidents on site. Radiographer and RSO will survey the site and evacuate prior to start of onsite x ray testing. We advice clients to take proper approval from plant safety before commencement of testing.
ASTM E446 Reference Radiographs for Interpretation
With decades of experience, our Radiographers can do RT inspection of heavy castings and welds. For X ray film interpretation of castings we have ASTM E446 reference Radiographs. Similarly, Welding Radiography reference standards are available for weld x-ray interpretation. In other words, we bring you trusted results so that you will know the quality of castings and weld joints.
In general, x ray radiography is suitable for lighter thickness sections and low density metals such as Aluminium, Magnesium and composites. In contrast, heavy sections and high density metals, gamma rays will do better. IQI or penetrameter of various materials are in place to ensure quality of each film. RT techniques includes SWSI, Panoramic for circumferential welds and castings, DWSI, DWDI Elliptical technique for pipes and tube welds of smaller diameter.
ASNT Level III consulting Service in Radiography
The test results are reliable under able guidance of ASNT Level III experts. Our in-house ASNT NDT Level 3 approves the procedures and RT testing techniques before starting radiography. He can also support the customers on preparing procedures and act as company level III.
If you need consulting contact us today. Know more about ASNT NDT Level III Services. 
For helping you in establishing right testing procedure, we have published free Radiography testing procedure for download. You can Download free NDT procedures and test report formats in pdf.
The best Safety rated Radiography testing Labs - Ready to Serve You.
Whether it is onsite testing or offsite testing, safety is paramount in Radiography testing. This has to be performed under the close supervision of Radiological Safety Officer (RSO)  to ensure safety. BARC Certified Radiographers will take exposures. The inspectors have right knowledge of theory and practical exposure mended by in-house ASNT Level 3. They can comfortably handle critical welds and castings with ease.
AERB, Mumbai is the regulatory body in India for safety in RT testing. For onsite radiography, upon application, AERB Mumbai issues prior approval. Contact us well in advance for your onsite x-ray testing. A team of RT Level 2 leaded by ASNT Level 3 will perform film Interpretation.
Radioactive Isotopes, X-ray Equipment and Accessories
The x ray Radiography test labs at Bangalore Karnataka, India hasGamma Ray testing using Ir-192
X-Ray – 250Kv
Radiography Enclosure
Radiation Survey Meters
Pocket Dosimeters
Safety Accessories CV Tongs, Lead Pots & Lead Sheets
IQI Image Quality Indicators
Major factors affecting Radiography X ray testing charges are material, job thickness apart from various other factors. Cost also depends on quality of x-ray film, sensitivity and other factors. For example, D4 for high quality and D7 for normal quality. 2-2T is the generally acceptable sensitivity. However, quality needs for aerospace may vary. Also, X ray radiography test charges are based on x-ray film consumption and location of testing. In general for a weld test coupon of 300mm length, 10mm thickness radiography charges starts from Rs.750+gst.
RT testing Charges are competitive for the quality of services we offer to our 1500+ customers in India.
Want to get the best quote for RT testing services ? Contact us today.
How to Contact us for RT Services?
Procedure to get Radiography Services from Trinity NDT Labs in Bangalore

Send us whats app message describing your x-ray requirements
Indicate part size, drawing, material, thickness and standard
Job location and number of weld joints
RT procedure and acceptance criteria if any.
Also specify your contact phone number.
Technical Team will contact you.
We normally reply within 2 hours on working days.
Check our other NDT Welding services
Training & Certification on Radiography Testing & Film Interpretation