Eddy Current Testing (ET) Training & Certification Courses
Learn Eddy Current testing from ASNT Level 3 Experts. Aerospace & Tube Inspection Specialists.
Eddy Current Testing Level I, II Training, Certification
Eddy current testing (ET) Is a nondestructive testing NDT method based on Inducing electrical currents In the material being Inspected. Then, observing the Interaction between those eddy currents and the test material. Eddy currents are generated using electromagnetic coils in the test probe, and monitored simultaneously by measuring probe electrical impedance.
Because, Eddy current testing is an electromagnetic induction process, direct contact with the test material is not required; however, the test material has to be conductive. Therefore, high speed inspections are possible using eddy current testing that can match production speeds.
Eddy current testing is a modern versatile NDT testing method. It's mainly used for even thin materials; in thick materials, penetration limit the inspected volume to thin surface layers. If the conditions are suitable, usually ET is suitable for surface and subsurface cracks.
In addition to crack and other flaw inspection, ET can be used to indirectly measure mechanical and metallurgical properties which correlate with electrical and magnetic properties. Also, geometric effects such as thickness, curvature and probe-to-material spacing influence eddy current testing.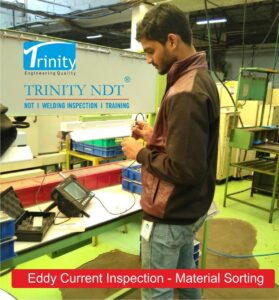 Importance of Eddy Current test training and certification
As like any other NDT method, interpretation of test results largely depends on person's skills, it is vital to engage person with good skills.Though it looks simple, ET is one of the tough method for interpretation of test results. Therefore, all eddy current standards, mandates certification of person for Level 1 or Level 2. As many variable are affecting the procedure, knowing theory and performing hands on practicals can only bring in right results.
Trinity institute of NDT ( A training courses unit of Trinity NDT, India) offers the great courses and training to certify for Eddy current ET Level I and ET Level II.  The courses will be as per ASNT SNT TC 1A. Training is through our training centre at Bangalore – India. We can offer you the same training or specific training at your location. We also offer Online and offline Eddy Current ET Level 2 courses for persons from India, Gulf, Africa, Nigeria, Cameroon, Kenya, Ghana and lot more countries. Contact our training department today for more details.
The institute is serving pan India  including persons from Chennai, Mumbai, Kochi, Hyderabad, Vizag, Jaipur, Kolkata, Delhi, Pune, Nagpur, Patna, Mangalore, and Hosur. Send us your query or request for quote for ET Level 1, 2 training services Now.

Course Outline, Duration and Fee for ET training Course
ET Level 1 or Level 2 course meets ASNT SNT TC 1A in terms of contents. Class room training and practice at our NDT work shops can make the learning easy.
Download ET training course outline here
. As per SNT TC 1A the total training is for 80 hours if the person is directly taking Level2 without any level 1. If he/she is taking Level 2 from Level 1 in ET method then the training duration is 40 hours. Regarding ET course and training fee,
you can write to us or call us now
.
Training Schedule
Well, we announce the training schedules for complete calendar year. You can choose as per the training calendar. We do both Online and Offline courses.  In addition, if you need specific technique  training, we can plan one for you and organize at your industry in India.
We have so far completed such programs in Delhi, Mumbai, Hyderabad, Vizag, Chennai, Cochin and other customer works in India.
The institute has served Nigeria, Cameroon, Kenya, Ghana, Africa, UAE, Saudi Arabia, Dubai and lot more countries.
Check the next training schedule on Eddy current ET Level 2 at Bangalore, India.

What is the principle Of Eddy Current Testing | Learn Basics
Let us learn the basic principle of ET testing. When a test conducting object is brought close to the Alternating current field of test coil, flux causes electrons to circulate in a swirling eddy-like pattern in the object; thus the term 'eddy currents'. In other words, eddy current behavior depends on the properties of both the flux and the object itself. Therefore, eddy currents are circular AC currents caused by a varying magnetic field. It works on the principle of 'EM induction'. If there is a change in current flow path, that will provide an indication on screen.
Are you looking for free eddy current test procedure or report format? Here, we give you useful NDT procedures and test report formats for free in pdf. Download free NDT procedures or test report formats in pdf
Advantages of Eddy Current Testing
This NDT method is sensitive to small cracks and other defects
Detects both surface and near surface defects
Gives faster results
Portable machines
Can be used for much more than flaw detection
Minimum part preparation is needed
Probe need not contact the part surface
Finally, Tests complex shapes and sizes
Limitations  of Eddy Current Testing
Suitable for only conductive materials
Surface must be accessible to the Eddy current probe
Skill and training required for testing is more than other methods
Surface finish and roughness may interfere with test results
Reference standards needed
Depth of penetration is less
Flaws that lie parallel to the probe coil winding and probe scan direction are not detectable. These may get detected only using special probes.
Find latest updates at Ravi Trinity NDT Blog. Want to know more about ET Nondestructive testing? Contact us for information on courses eligibility, fee structure and training schedules.