Serving Customers across the Globe. 1500+ Satisfied Clients.
Trinity NDT Customers for NDT, Aerospace, Welding Services.
Trinity NDT Testing services are NABL ISO17025 Accredited and NADCAP accredited for Aerospace NDT. We have diversified clientele starting from Automotive, Oil and Gas to Aerospace components. Today, we serve over 1200+ satisfied clients in India and abroad. We served clients on NDT & Welding in UAE, Azerbaijan, Poland, Nigeria, Cameroon, Angola, Ghana, Kenya. Mozambique and South Africa and others. 
Both NDT testing and Welding Services have won world wide reputation. Clients rely on our quick and affordable nondestructive testing and welding WPS services. Currently we serve clients from Bangalore, Hosur and Mysore. Also working with clients in Mangalore, Hyderabad, Vizag, Bellary, Hindupur and Tirupati. On demand basis, we serve other cities India as well.
Dassault Aviation, France and HAL, India Approved Center
Our services are approved by major Aerospace OEMs such as Dassault Aviation, France, Hindustan Aeronautics Ltd HAL. Also clients includes Dubai Airports, L&T Aerospace, Bharat Electronics BEL and BHEL. Our Automotive customers including Mercedes Benz, Toyota, TVS and good number of clients in Elective Vehicle EV space.
We also serve on Nondestructive testing NDE of Boiler, Pressure vessel, Oil and Gas, Pipelines. Our Clientele including GAIL India, NTPC, ONGC, Indian Oil Corporation Ltd IOCL, HPCL, BPCL and Shell Oil. 
X ray radiography services for Gas and Heat exchangers, Welding, Castings, Forgings, Defence and Aerospace, Infrastructure, Shipping and transport sector customers.
Stronger and Longer Relationships with Clients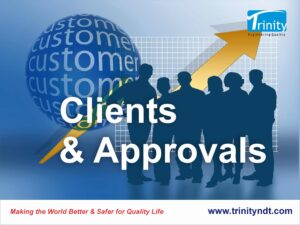 Trinity NDT is consistently working towards improvement of quality in every service. We are committed to build stronger and longer relationship with all its clients. There are more than 1200 satisfied customers and over 18000 training participants from across 40 countries worldwide using our World Class Nondestructive testing – NDT and Welding services.
We have successfully completed many Nondestructive testing and WPS welder qualifications, Welding projects well within the stipulated project completion schedules. Our Technical team with commitment and dedication has been vital in completing the NDT & Welding Fabrication projects within the quickest time spans.
Client base for XRay Radiography, UT, DPT and MPT Testing
Our priorities: Customer centric service, continuous up gradation of technical know how. Presently, equipping with latest equipment, high quality NDT and Welding training of Trinity NDTians keeping us always at the forefront. We are the key NDT & Welding service provider for Industrial Xray Radiography Testing using Gamma rays and X-rays, Ultrasonic testing of Metals and Composites. 
Serving clients on NDT services – Eddy current crack testing, material sorting using eddy currents, paint and wall thickness measurement. Aerospace NDT services Dye Penetrant testing DPT – FPI testing using Water washable, Solvent removable and Post Emulsifiable Sensitivities S2, S3 and S4.
Also reliable NDT services for Magnetic particle MPI testing and Visual testing of welds using weld gauges. In addition, ASNT & NAS410 NDT Level 3 Consulting services, NDT procedure preparations and approval and Auditing of NDT testing services.
Center of Welding - A modern Fully Equipped Center for Solutions on Joining Materials
Our recent addition of Centre of Excellence in Welding has created an ecosystem to develop welding processes, qualifying and certification of welders, welding operators. Also, consulting and preparation of WPS, PQR, WPQ and training of welders on special materials, positions, safety in welding.
We show case the cutting edge technologies to the customers, hand holding every client in meeting the quality standards in welding and fabrication. Our Centre of Excellence in Welding offers International Welding Engineer – IWE and International Welding Technologist – IWT services, ISO3834, EN15085 Welding consulting and certification services.
Our training services on Nondestructive testing Level I, II have won many laurels and appreciation from each participants and sponsoring companies. Our recent addition of training on ISO9712 training and certification courses and welding inspector training courses are best examples and testaments for quality we offer. Know more about our Nondestructive testing services and updates visit Ravi Trinity NDT Blog
With this encouragement, Trinity NDT is adding more testing and training services in the near future. Commitment towards conducting top quality best training & certification courses.  We serve clients cross Cameroon, Ghana, Kenya, Nigeria, in Africa, USA, Canada, Azerbaijan, Russia, Norway, Oman, Yemen, Saudi Arabia, UAE. Also, Srilanka, Nepal, Bangladesh, Bhutan, Singapore, Malaysia, Papua New Guinea in Australia and over 42 plus countries.