WPS, Welder Qualification Tests. Brazer Certification Consulting in india
Establishing WPS, PQR, Certifying Welders to International Codes & Standards
WPS, Welder Qualification Test at Bangalore, Mysore, Hosur in India
Welding is a special process for joining materials. Also, welding is the principal fabrication process. Further, just welding the two members is not enough, they should be able to serve intended life. It is also important to prove that a welding procedure WPS meets the quality standards. Above all, ensure that the welder has skills to produce consistently good quality, defect free welds. Therefore, welder qualification test for welders is vital in welding and Brazer Qualification in Brazing.
The Welding Services center provide 'Welder Qualification test, Welder certification and validation of WPS, PQR services for companies and MSMEs in Bangalore, Mysore, Hosur, Mangalore, Hyderabad, Goa and Vizag in India. The welder certification services includes WPS, performance qualification to codes, such as ASME Section IX, AWS D1.1, D1.2, D17.1 and other BS EN ISO standards.

If you wish to prepare WPS, test the welds and certify welders in India, contact Trinity NDT Welding Centre today. Certainly, our welding engineers quickly serve from Bangalore across Delhi, Mumbai, Chennai, Kolkata, Pune and Hyderabad. Above all, the weld testing laboratory has X-ray testing, Ultrasonic UT and other NDT inspections to bring you fastest results. We also provide IWE, IWT and CSWIP 3.1 welding inspector services in India.
Welding Machine Calibration Agency in Bangalore
Calibration checks the Welding machine consistency in giving right voltage and amperage. Therefore, it is important to calibrate welding machines. That is to say, 'Trinity NDT – Welding Centre' calibrates your welding equipment to standards. We advice to service and calibrate the welding machines before the welder qualification tests so that problems due to faulty welding machines are avoided.
Know more about welding machine calibration services. Send us your enquiry to know about welding machine calibration charges. Experience our quick and reliable welding machine calibrations today.
How to Get WPS, PQR Welder Qualification test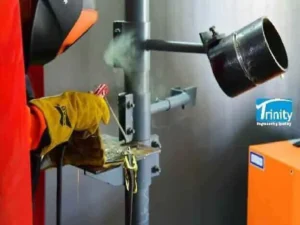 Important documents in the Welders qualification testing procedure
WPS
,
PQR
and
WPQ.
A 'WPS' is a document with listed welding variables for repeatedly producing sound quality weld joints. Most importantly, various welding codes, standards and specifications helps to prepare welding procedure specifications (WPS).
The procedure qualification record (PQR) is a document that consists of record of weld test results. A PQR is a document that records the actual values but not lists ranges as is with WPS. Finally, from recorded results in PQR, a WPS is prepared with ranges using the essential variables as per the welding code. In other words, it is important that welder should know both WPS and PQR. In conclusion, PQR is an office document and WPS is a shop floor document for the welders. Both are quite important in welding.
WPS welder Qualification certification to AWS, ASME and ISO
WPS is a vital document that explains how to weld during production. Also, WPS records all the parameters used while doing the welding. Therefore, AWS and ASME section IX and ISO codes mandates preparing WPS and issue welders qualification. Trinity NDT-Welding Centre provides welders performance certificate and prepare a new WPS, if there is a change in any essential parameters.
WPS basically documents information. Such as base material grade, electrode selection, preheating, post heating(if any), voltage, amperage, welding speed, weld position, gases to be used(if any), gas flow and many other essential and nonessential variables.
If the welder follows the WPS, he could able to produce the best quality welds. In general, WPS documents with ranges of weld parameters so that the welder could able to produce good quality welds.
Contact us today for your WPS welder certification services in Bangalore, Mysore, Mangalore, Belgaum, Hyderabad, Vizag, Goa and Hosur or any other part of India.
Brazing performance for Brazers Qualification in India
Brazing is an another joining process in which a molten filler material is used that has a liquidous temperature above 450ºC but lower than the solidus temperature of the parent materials.
'Brazer' is a skilled person who holds and manipulates the device for heating the brazing area by hand. Whereas, Brazing operator is the person who prepares the brazing joints and sets up Brazing equipment and thereby direct influence on the Brazed joint quality.
Brazing Qualifications (BPS)
Brazing Procedure Specification (BPS) is a document providing the designations or values of the required variables necessary to achieve consistent brazing. That is to say, Brazers needs certification and qualifications. Contact us for BPS for brazers and brazing operators in India.
Welders and Welding Operators Certification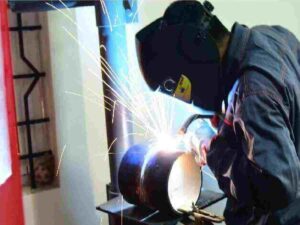 'Trinity NDT – Welding Center' is providing Welders and Brazer qualification testing since 2001. In addition, WPS meets welding standards, codes and specifications. Also, our team on Welder Qualification tests, Brazers Qualification Test, have experts with decades of experience with leading welding and fabrication companies.
That is to say, we extend our welding services through IWE, IWT, AWS-CWI, CSWIP 3.1 Welding Inspectors. The welding engineers at Trinity NDT can work together with clients and their counterparts while establishing WPS.
Why Trinity NDT – Welding Centre for Welder Qualification test?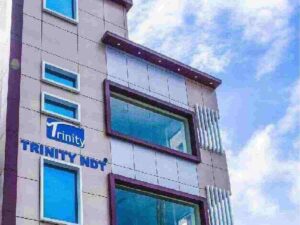 Because, we have over two decades of experience in preparing WPS as per ASME, AWS, ISO standards and codes. Also, offers welder certifications as per Aerospace standards. For example: AWS D17.1 is the specification for fusion welding of aerospace applications.
We also have associated mechanical testing lab for weld coupons. And,
NABL ISO17025 Nondestructive testing (NDT) Labs
for X-ray radiography testing and other NDT tests in the same campus. Therefore, we assure delivering test results in shortest time at affordable prices.
Our welding engineers have IWE and IWT certifications from IIW. Also CSWIP 3.1 from TWI, UK. With over two decades of experience, our welding services have worldwide recognition. With strong expertise in welding, trust us for welding and brazing qualifications. Contact us today to certify your welders.
Charges for WPS, Welder Qualification test and Welder Certification
We keep the cost of our WPS services lowest in industry. Consequently, our charges for WPS Welder qualification testing is economical and affordable. Of course, the cost will vary as per the welding code and other parameters. In other words, at first we collect information, quickly estimate and reply back with cost of welder certification.
Also, Trinity NDT – Welding Engineers have ability to hand hold the clients in validating WPS and train their welders as per welding codes. Then, test the welders and issue welders certificate. Do you want to know the charges for WPS, PQR, WPQ preparation? We are just phone call away from you.
Best Welders Training Institute in India at Bangalore
Learning welding skills needs best institute with right equipment and experienced welding instructors. Therefore, 'Centre of excellence in welding' trains welders on welding skills. It is an ISO9001:2015 institute for welders training. Also, the welding institute has workshops for skill training on SMAW, GMAW, GTAW and FCAW. In other words, welders training in
| | |
| --- | --- |
| SMAW | Shielded Metal Arc Welding or simply arc welding training |
| GMAW | Gas Metal Arc Welding or simply Co2 Welders training |
| GTAW | Gas Tungsten Arc Welding or TIG welder training |
| FCAW | Flux Cored Arc Welding |
Welding Processes supported by Trinity NDT for Welder Qualification and certification
Are you looking for the best welding institute in India? What is your welder training requirement? Our trainer can map a welder certification training. Then, we can train and certify for welding positions such as 1G, 2G, 3G and 4G. In addition, we train welders up to 6G position for pipe welding.
Contact us today to schedule a welders skill training course at our institute in Bangalore.
Also, our welding consulting services can help you to improve quality of welding. Further, our weld testing labs can do quick NDT. For example, X-ray testing labs for testing welds. Also, we fine tune welders in making radiography x-ray quality welds. Because, our welding engineers and welding instructors have vast experience in doing critical welding of pressure vessels, boilers, pipeline and many more.
Basic steps in Welder Qualification test WPS or Brazing Procedure
Firstly, Plan for the welding
Then, collect the data pertaining weld quality requirements
Meanwhile, write a Welding procedure(PreWPS) for use in trial
After that, make a test weld under the supervision of welding inspector
Then, perform mechanical and NDT testing of weld coupon as per Welding code
Subsequently, evaluate the weld test results
Approve WPS for welding
Finally, Prepare the documents as per code. For example, WPS, PQR and WPQ
Note: After the weld testing, all inspection results collated, and assessed as per relevant Welding code or standard

Why Welding and Brazing Procedure Test
Firstly, to give maximum confidence that the welds mechanical and metallurgical properties meets applicable code/specification.
Secondly, each welding procedure will show a range to which the procedure is approved (extent of approval)
Finally, If a customer queries the approval, evidence can be supplied to prove its validity
Our Welding and NDT Services
Preparing WPS as per AWS, ASME, ISO, IS codes and standards
Witnessing, third party inspection of welder qualifications tests
Then, preparing WPS, PQR and WPQ
Analysis of Mechanical, NDT and metallurgical tests
Consequently, carrying out

Radiography (X-ray and Gamma ray)

,

Ultrasonic inspection

,

magnetic particle inspection

, dye penetrant inspection, visual inspection and other NDT inspection tests
Also, facility for Training welders at the welding institute
Finally,

Welding inspector certification

for welding inspection personnel.
Welding and Brazing Procedure Qualification Tests Codes & Standards

Countless number of codes and standards are available for establishing WPS, PQR and WPQ. It is the responsibility of welding company to choose right welding code that satisfies the customer. Here is the brief list Welding Codes and standards for Welder Qualification WPS testing and Certification of Welders. You can check with the respective standard issuing authority to know the latest revisions.
| | |
| --- | --- |
| IBR 1950 | Qualification & Certification of Welders as per Indian Boiler Regulation, IBR 1950 for IBR quality welders certification |
| ASME Section IX | Welding, Brazing and Fusion Qualifications |
| AWS D1.1 | Steels – Structural Welding Code |
| AWS D1.2 | Aluminium – Structural Welding Code |
| AWS D1.3 | Sheet Metal – Structural Welding Code |
| AWS D1.6 | Stainless Steel – Structural Welding Code |
| AWS D17.1 | Specification for fusion welding of Aerospace Applications |
| AWS C1.4 | Specification for Resistance Welding Of Carbon And Low-Alloy Steels |
| EN ISO15614-1 | Specification and qualification of welding procedures for metallic materials — Welding procedure test — Part 1: Arc and gas welding of steels and arc welding of nickel and nickel alloys |
| EN ISO15614-2 | Specification and qualification of welding procedures for metallic materials — Welding procedure test — Part 2: Arc welding of aluminium and its alloys |
| EN ISO15609-1 | Specification and qualification of welding procedures for metallic materials — Welding procedure specification — Part 1: Arc welding |
| ISO 9606-1 | Qualification testing of welders — Fusion welding — Part 1: Steels |
| ISO 9606-2 | Qualification test of welders — Fusion welding — Part 2: Aluminium and aluminium alloys |
| BS EN 13134 | Brazing – Procedure approval |
| BS EN 12797 | Brazing – Destructive tests of brazed joints |
| ISO 13585 | Brazing — Qualification test of brazers and brazing operators |
ASME, AWS, ISO Codes and Standards for Welder Qualification and Brazing Qualification by Trinity NDT, Bangalore, India
Certainly, We will be glad to assist you, for Welder Qualification, Brazer validation of WPS and also welder's training. For latest updates visit NDT & Welding Blog. Call Mr. Mohan K on Phone/whats App: +91 9141339969 / 99009 29439 / 98441 29439 E-mail: welding@trinityndt.com
Know more about IWE/IWT consulting on welding, Training of Welder and Welding Inspectors.