Liquid Penetrant Testing (DPT) Training & Certification Course
Learn & Get Internationally Recognized Level 2 Certification on DPT testing. Also Available online.
Dye Penetrant testing(DPT) Level I, II Training & Certification Courses as per ASNT SNT TC 1A & ISO9712
DPT testing or Dye Penentrant inspection, FPI are referred to the same testing which is commonly knows as Liquid Penentrant testing. In engineering work shop and weld fabrication industries, Dye Penetrant inspection is widely called as DP test or DPT inspection. Where as in Aerospace NDT field, FPT testing refers to Fluorescent penetrant inspection method using fluorescent coloured penetrant for inspection. This fluorescent testing techniques will enhance the visibility of indications and thus improving the overall sensitivity of FPI testing. Therefore, in aerospace related industries FPI is of more relevant term for the same kind of NDT testing.
The Best Institute for Learning Penetrant Testing level 2 in India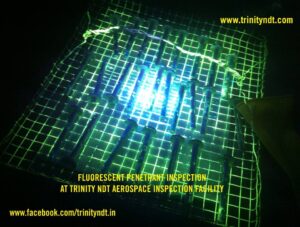 You read it right. Trinity Institute of NDT Technology is world renowned institute for world class nondestructive testing courses. Liquid Dye penetrant testing Level 2 courses at the institute are being organized since over two decades. Great Trainers, well established DPT testing FPI aerospace labs, it is the best centre to learn and upgrade skill for PT Level 2 certification.
PT Level 2 training SNT TC 1A & ISO9712
The training centre in Bangalore offers both ASNT SNT TC 1A and ISO9712 training courses at Bangalore in India. Also, the institute has online modules on level 1, 2 Penetrant inspection method. As we serve for our customers with almost every DPT testing technique, it is the best place to learn almost every PT testing technique starting from Method A to Method D. You will also have a good opportunity to witness using sensitivity of penetrants up to level 4.
Join the pools of candidates from across India and abroad
Right learning can make better professionals. For this, the institute needs, good class room and practical training. DPT or PT Level 1 and Levle 2 Training can also be organized at customers location in Hosur, Mangalore, Mysore, Hyderabad, Cochin, Goa, Pune, Delhi, Mumbai, Ahmedabad, Chennai, Kolkata, Patna and almost every location in India or any other country. If you want to Register for our upcoming PT Level 2 training schedules in Bangalore, Contact us.
Penetrant testing Level 1, Level 2 Courses objective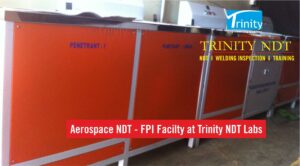 PT level 1 or Level 2 course provides comprehensive knowledge of Penetant inspection method, sufficient to enable a person to carry out tests in accordance with procedures. The level 1 technician will work under the supervision of level 2 or Level 3 personnel. This course also covers, national, international codes and standards (For example ASTM E 165, ASTM E 1417) useful in day to day Penetrant DPT testing. After completion the Level 2 could able to perform the test, interpret, evaluate the results, prepare the report and complete almost every responsibility as PT Level 2.
Online Dye Penetrant testing level 2 Course Live from India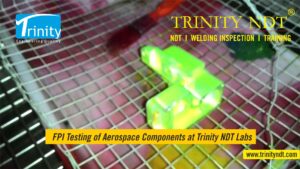 Online NDT courses will provide opportunity for working quality engineers engaged in DP testing and FPI testing. Online training gives adequate class room sessions and are quite interactive. NDT Level 3 trainers have over two decades of industrial experience. Overall the training will help PT Level 2 qualified to carry out Penetrant testing according to written instructions, set up the equipment, carry out the test, record, classify, and report the results. The PT level I personnel shell be not responsible for choice of test method nor for assessment of test results.
Online Live Level 2 Training from Bangalore India
Choose from our online training schedules and attend the live training from our centre in Bangalore, India. Ample number of aspirants from UAE, Dubai, Saudi Arabia, Nigeria, Kenya, Cameroon, South Africa, Pakistan, Yeman, Iran and Iraq apart from many other nationals took advantage of our online NDT training certification courses. Also companies sponsoring candidates from the works at Delhi-NCR, Mumbai, Pune, Ahmedabad, Punjab, Kolkata, Hyderabad, Vizag, Chennai, Cochin and other cities of India
Eligibility and Fee For Penetrant testing Training Courses
Eligibility for PT Level 1, Level 2 and level 3 courses may vary as per certification scheme. Check your eligibility for NDT Level 1, 2 Courses now prior to course registration.
Course fee for Dye Penetrant testing(DPT) FPI testing Level 1 and Level 2 is available upon request. The course is offered as per ASNT SNT TC 1A and also ISO9712 certification schemes. Contact us today for training fee details for the upcoming NDT schedules for both online and offline.
NAS410 Level 2 training Aerospace FPI testing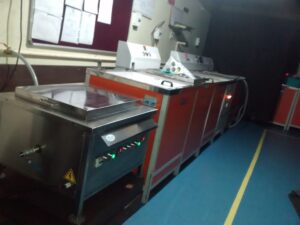 In aerospace specific FPI applications, the candidates shall be certified NAS410 Level 1, Level 2. Our Aerospace NDT division offers training and certification on Aerospace Penetrant testing FPI Level 1 and Level 2 courses. But these courses are employer based content specific, offered only on need basis. Each NAS401 Level 1 and Level 2 course is formulated based on clients techniques actually used for testing at their works. Also, the trainee shall have adequate qualifications and documented experience on FPI testing of aircraft hardware.
NAS410 Level 1 or Level 2 courses are offered at Bangalore in India. These courses are offered only on demand basis specifically to meet client aerospace FPI testing requirements. If you need NAS410 standard Penetrant testing do write to us today to our aerospace NDT division.
Contents and Outline for Penetrant testing Course

The training course on Penetrant testing is structured to deliver the best class room and parctical training. Also, in case of exclusive training for a specific customer, it can be modified to suit the client needs. Liquid Penetrant testing Training Level 1 and Level 2 course Brochure: Download
We will be happy to assist you interms of eligibility, fee structure, training schedules. Call us today and experience our award winning services on NDT and welding.