Welder training, Calibration, ISO3834 & En15085 consulting
Welders Training, Welding Machine Calibration, ISO3834 & EN15085 certification body in India
Welder training, Machine Calibration ISO3834 EN15085 certification consulting
'Centre of Excellence in Welding' of  Trinity NDT is a magnificent welding center at Peenya, Bangalore. In India, the Welding Center is established to provide best welder's training, welding machine calibration and ISO3834 & EN15085 welding consultancy services in India at Bangalore.
In addition, we offer Welder certificate, Brazer qualification and weld testing services  in Bangalore, Hosur(Tamilnadu), Mysore and Mangalore in Karnataka. Trinity NDT is an ISO 9001-2015 certified nondestructive testing and welding services company started in the year 2002. The 'Centre of Excellence in Welding' is a recognized/approved NDT & Material testing laboratory as per IBR by Directorate of Factories, Boilers, Industrial Safety and Health, Govt. of Karnataka, India. Welding Centre also extends IWE/IWT consulting services for ISO3834 and EN15085 certifications.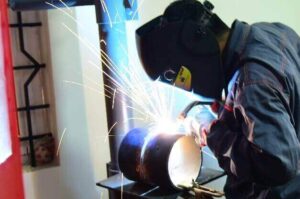 Welding Services, Welder training and machine calibration in Bangalore, Hosur and Mysore
We provide Welding Electrode Qualification Test EQT as per ASME SEC II Part C. Also, Welders and Welding operator qualification as per ASME section 9 or AWS D1.1,  API 1104 for petroleum oil and gas related welder qualification. In addition we also qualify welders as per  ISO15614, ISO9606, AWS D17.1 aerospace sector welder qualification. Learn more about our services on
welder qualification and certification services
at Bangalore, Mysore and Hosur. Besides, gives welder training and welding machine calibration for industries for welding fabrication companies in Bangalore.
CSWIP 3.1 Welding Inspector services
Trinity NDT – Centre of excellence in welding  imparts CSWIP 3.1 visual inspection services according to EN ISO 5817 acceptance standard. Based on the welding code requirement delivering duties of welding inspector. Also, serving as consulting CSWIP 3.1 inspector for welding fabrication workshops in Bangalore, Mysore and Hosur(Tamilnadu).
The CSWIP 3.1 inspector can help to establish WPS, perform weld inspection before, during and after welding. Inspectors will perform overall quality control activities in the shop floors.
Brazing and Brazing Operator Qualifications
Our technology centre also issues, Brazing and Brazing Operator qualification and certification of brazers for standards and codes on brazing. The Brazing process qualification and validation is performed by experts in Brazing at Trinity NDT- Centre of Excellent in Welding. Overall, the welding centre 
Qualification and Certification of Welders, Welding Operators & Brazers
to International Standards and Codes viz. ISO, ASME, ASTM, IS and EN standard.
Contact us
today for your Brazing and Brazing operator qualifications in Bangalore or Hosur, Mysore or even in Mangalore.
Need for Welding Machine Calibration

Quality of welding is based on two vital factors. Firstly, human factors and secondly machine factors. Therefore, ensuring the welding machine is delivering correct current and voltage is the key in producing quality welds.
Consequently, calibration of welding equipment enables us to know accuracy level of machine. If it is defective, can be rectified to the extent needed. Or else, it will produce defective quality welds. Therefore, we recommend to calibrate welding equipment on regular basis.
Welding Machine Calibration Services
Overall, calibration of welding machines is required to know the condition of equipment output. Due to continuous use of welding machines under tough conditions, there is a chance of losing accuracy thereby producing poor quality welds. This needs  periodical checking of welding machines by calibration. Also, before proceeding for using the welding machine for welder qualification test, it is required to calibrate the machine and do repair of welding machine if needed.
We provide trusted calibration services for a majority types of welding machines in Bangalore, Hosur, Mysore and even Mangalore and Belgaum. Our calibration services team will visit your welding shops to do the required calibration onsite for your welding machines.
Contact us
today for calibration of welding machines in and around Bangalore, Hosur (Tamilnadu), Mysore and Mangalore, Belagum in Karnataka. Experience our quickest calibration services today.
International Welding Engineer (IWE) and Technologist (IWT) Consulting

Welding companies should have quality management system to ensure the company follows and adheres to quality standards. A welding coordinator looks after activities such as welder qualifications, documentation, quality system, calibration of welding machines.
International Welding Engineer IWE and Technologist IWTs are having over 20 years of experience in welding and NDT. Besides, our IWE and IWT experts working experience can help weld fabrication companies in the process of ISO3834 & EN15085 certifications.
Proper selection of experienced coordinator helps in reducing unwanted rejection and rework of welds which can bring more economical benefits. In India,
The Indian Institute of Welding IIW India
is an authorised nominated body (ANB) for issue of IWE and IWT certifications.
If you need IWE or IWT consulting in establishing ISO3834 and EN15085, we are the right people to contact. As we are capable of serving  with IWE / IWT across India, you can contact us today.
ISO3834 and EN15085 Consulting Services in India
What is ISO3834 Certification?
ISO3834 is an International Standard Organization standard for QMS certification in welding and fabrication companies. If you need global recognition for the quality, ISO3834 is the optimum choice. In deed, the standard is widely accepted among customers in Europe, USA, India and middle east nations. 
How ISO3834 can help weld fabrication companies?
Globally, ISO3834 is much sought certification in ensuring the quality of welding systems. Equally important, is reducing the rejection or rework. This not only increases the confidence among customers, but also saves huge costs. ISO3834 brings international clients that helps in boosting sales and exports. In conclusion, we can say ISO3834 certification can help you to built quality processes in welding fabrication companies thus increase in customer base and builds reputation and sales.
About benefits of ISO3834 certification
Clear, high profile, independent verification of compliance by the world's leading authority on Welding.

Confirmation of welding and fabricating capability and staff competence,

Improved client confidence leading to a reduction in external audits. 

Entry of the company's details on well-publicised International Web site register.

Quality management and fabrication capability assessments are carried out by IIW recognised assessors.

Increased national and international business potential.

Cost savings through reduction of rejection/rework in production.

Improved delivery with 'first time right' approach.

For many products, mandatory requirement for suppliers to EU and many other countries, and also for the sub-suppliers. Namely the EU Directives, andthe Harmonised Product Standards. e Establish the base for implementation of other relevant standards like EN:15085, EN:1090, EN:13445 etc. & CE making.
More about ISO3834 – Manufacturers Certification Scheme of IIW
Many welding related companies have achieved certification to 1SO:9001 for their quality management systems. However, where significant advantage of it towards the special process (a process where the conformity to the resulting product cannot be readily or economically verified is referred to as a 'special process') like welding, such certification is unlikely to provide the required demonstration of welding company's capability to manufacture products with the 'required' product quality. In such cases compliance to 1S0:3834 is the recommended solution.
The International Institute of Welding (IIW), as a tool for achieving substantial quality, has introduced a specific Manufacturers Certification Scheme (MCS) referring to 1SO:3834 for world wide implementation.
Introduction to ISO3834 Standard
Processes such as fusion welding are widely used to manufacture many products. In some companies, they are the key process of production. Products may range from simple assemblies to complex fabrication. Examples include pressure vessels, domestic and agricultural equipment,
cranes, bridges, transport vehicles, construction of plants and many such other items.
It is important, therefore, to ensure that the operational processes are carried out in the most effective way and that appropriate control is exercised on overall aspects of the operation. Quality cannot be inspected into a product; it has to be built in. Even the most extensive and sophisticated non-destructive testing does not improve the quality of the product.
How Trinity NDT – Centre of Excellence in Welding can help you for ISO3834 & EN15085 certifications
Industries and companies planning in the process of ISO3834 and EN15085 QMS certification may need consulting services. Centre of Excellence in Welding of Trinity NDT is an Associate for Indian Institute of Welding IIW to facilitate International 
Company Certifications such as ISO3834 and EN15085
. If you are looking for consultation for ISO3834 and EN15085 we have the right expert to hand hold and provide expert services. Contact us today.
Welders Training Courses Institute in Bangalore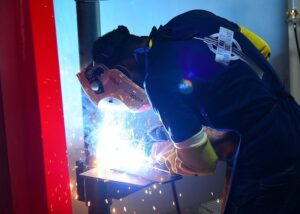 Welding is vital for manufacturing. Quality in welding can be achieved by quality welders and good quality welding machine and consumables such as electrodes, wire, shielding gas and others. In general, majority of welders choose welding as profession not intentionally bur accidentally. Quality welding requires good exposure to welding practice.
In fact, more than education, Welding is  a valuable skill. Skills can be obtained only by thorough practice. However, good welding needs understanding the principles of welding, welding metallurgy, arc properties, conditions for good welding ambience following welding safety, understanding welding symbols and other aspects. Welders training requires optimum combination of class room training and welding workshop practice at a professional institute.
Need for Good Welding Institutes in India
Good professional welding institute should have smart welding machines that can reduce the skills required to perform good welds. Though, there are institutes  for welders training after high school, majority of these institutes in India could not train the welders to the level of skills that really industry needs. Thus, there is a huge gap of industry skilled welders needs and institute produced welders. With current target of India's GDP growth the gap for skill welders is still widening.
Unfortunately, welding is treated as not so lucrative field in India for the aspiring young engineers and post high school talent pool. But, today, welding has grown to the level that no one cant even imagine in terms of rapid technological development of industry 4.0 ready welding machines. Also, high degree of producing x-ray quality welds with minimal efforts on the part of welder.
To summarize, contrary to popular opinion, welding is one of the most respected job for any individual to choose it for successful career. This needs best welding skill institutes in India with modern welding machines and passionate trainers to teach welding is the need of the hour.
Institute for Welders training at Bangalore in India
Considering the need for best institute for learning welding skills, Trinity NDT  Centre of Excellence in Welding at Bangalore India started welder training courses. With the latest welding machines from 'Fronius, Austria' the centre is nothing less than the best centre for learning welding skills in around Bangalore.
In fact, the Welding Skills Institute trains candidates from not only cities Karnataka Mysore, Mangalore, Bellary, Shimoga, Belgaum and from Hosur(Tamilnadu) and other parts of Tamilnadu, Kerala and Andhra Pradesh. Special training courses on Welding for Welders, Welding supervisors, Brazers and Welding Inspection personnel. Also find
International Welding Certification courses
at the institute.
Visit our Welding Centre in Peenya Industrial Area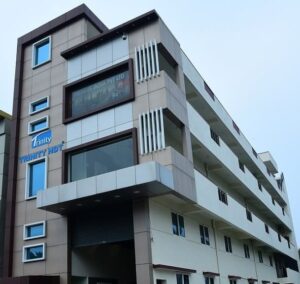 The Welder training centre at Peenya, is a complete institute for learning SMAW Welding, GTAW(TIG) welding, GMAW(Co2) and FCAW welding. An experienced team of welders and trainers leads the training courses. Organzing training at customers venue if needed for a group of welders. The best part of the training is, welds can be x-ray tested at NDT Labs of Trinity NDT for testing weld quality.
Also, at the end of training, welders can be qualified and certified to international codes that can help them to get into right job. Know more about our
welder qualification services.
Trinity NDT is a recognized/approved Material testing laboratory as per Indian Boiler Regulation, 1950 IBR and it's latest amendments by Directorate of Factories, Boilers, Industrial Safety and Health, Govt. of Karnataka, India. Visit the leading institution for welders training and welding machine calibration services in Bangalore, India. For latest updates Visit
NDT and Welding Blog
Industry 4.0 Ready Welding Machines to support the activities
Shielded Metal ArcWelding- SMAW
Gas Metal Arc Welding –GMAW, Metal Inert Gas Welding – MIG and Metal Active Gas Welding MAG welding
Gas Tungsten Arc Welding – GTAW Tungsten Inert Gas Welding TIG
Flux Cored Arc Welding FCAW
About Trinity NDT Labs in Bangalore India
Trinity NDT – Testing Labs are NABL accredited and Aerospace NADCAP accredited. Weld joints and casting X-ray testing and Radiography facility.  Know more about our NDT testing Labs and services. Know more about the NDT testing services  and send us your testing queries at Contact us.