Magnetic Particle Testing (MPT) Labs. Crack Detection Services.
ASNT Level III Certified MPI testing Experts. In-house and Onsite NDT Services.
NABL accredited MPT testing Lab in Bangalore. Over 1500+ clients. ISO17025 :2017 Center.
Magnetic Particle (MPT) Crack detection Services in Bangalore. precision components and onsite services at Clients locations. Serves in Hosur and Mysore.
Magnetic Particle Testing or MPI Inspection is routinely called as Crack Detection. Magnaflux MPT testing (known on shop floors), is extensively used Nondestructive testing NDT for crack testing on steels & ferrous metals. MPI testing finds both surface and subsurface cracks.
Trinity NDT testing center has special magnetic particle testing services which are NABL accredited labs. We serve in Bangalore, Hosur, Mangalore and Mysore. MPT testing is also NADCAP accredited for aerospace MPI services. Check more about Aerospace MPI testing.
Also, MPT testing is suitable to inspect castings, forgings and welds. In addition, the method is even acceptable for steels in as cast, as forged and as machined condition. Further, magnetic particle testing gives satisfactory results in in-service inspection of shafts and gears to find fatigue cracks. However, before testing check if the material is ferromagnetic. In fact, MPI testing is the most common NDT testing method in automotive and aerospace crack tests.
A curious question is on what principle does magnetic particle MPI testing works? Its simple, Magnetic flux leakage. Where there is a crack or flaw (due to breakage), flux lines breakup. If we can sprinkle iron powder, indication will be formed at crack location. Finally, interpret and evaluate all indications.
Steps in Magnetic particle testing
Clean the surfaces
Check cleanliness
Apply magnetic flux
Spray magnetic medium
Observe under lighting
Interpret and evaluate
post clean surface
Magnetic Particle testing Labs. NABL Accredited.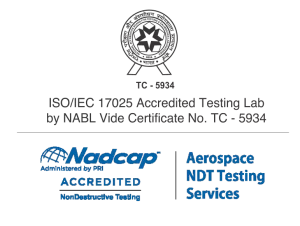 Trinity NDT Magnetic particle inspection Labs in Bengaluru, have MPI machines, yokes and prods. We perform testing both inside Peenya labs and onsite MPT tests. We engage certified NDT MT Level II technicians. In house ASNT NDT Level III experts will closely monitor Magnetic particle inspection so as to adhere to MPI procedure.
Also, we are an MPT testing agency having NABL Accreditation as per ISO17025:2017 and ISO9001:2015. Therefore, procedures, machines and inspectors will deliver high standards of quality. Trinity NDT Aerospace MPI testing labs can perform fluorescent magnetic particle testing as per relevant aerospace MPI procedures.
Portable equipment such as Yoke machines are suitable for field inspections. Whereas, prods are fit for mobile testing. Bench type MPI machines are apr for production components and high sensitivity. Also, we provide demagnetization services of shafts.
Using only good quality magnaflux powders, carrier oils, test kits our customers can fully rely on our magnetic particle crack inspections. In other words, our MPI testing services are on-time and trustworthy. Daily control checks at shop floor will ensure the process is in control. Our in house ASNT NDT Level III in MT testing, monitors each check and assures the results are intact.
With over two decades of experience, we are the best magnetic particle testing center in India. Are you are looking for reliable MPI testing labs in Bangalore, Hosur, Mysore or Mangalore? We have complete MPT inspection at our Peenya Center and onsite wherever you are in India.
Types of Currents and Techniques in Magnetic Particle testing

Our Magnetic particles testing MPI labs use below techniques.
AC/DC Electromagnetic Yoke
Prod type circular field
Head Shot
Coil Shot
Central Conductor
Dry or wet with above combination
Fluorescent and Non fluorescent
Demagnetization to Reduce Residual magnetism
In addition, we also have de-magnetizers to bring down the residual field to acceptable level (i.e usually +3Gauss). Are your shaft or bar stock or gear has objectionable residual magnetism? Then, we do demagnetize your jobs. Find more about demagnetization services.
We use Yokes at our labs with AC and DC currents. Whereas, prod equipment with AC and HWDC. Bench type MPT equipment have all three modes of currents, ex: AC, HWDC and FWDC. Equipment up to 6000A which is quite favourable for magnetic particle testing of large castings, valves and welds.  Tell us about your current required, we have it.
Trinity NDT Labs in Bengaluru have wet bench type Head shot, Coil shot, Central conductor equipment. Prod Type, AC/DC Yokes and Permanent magnet type techniques are suitable for onsite MPT testing. We use portable kits for field MPI crack testing services.
MPI testing equipment meets Aerospace procedures as per ASTM E 1444. Equipment is suitable for testing mass production components. The machine can produce up to 6000 Amps of current. Techniques include Fluorescent and Non-fluorescent, Dry and Wet type.
ISO17025:2017 NABL Accredited MPT testing Services
Our Magnetic particle testing labs at Peenya, Bengaluru, India have NABL ISO17025:2017 Accreditation. Each technique is practiced using approved NABL procedures. Download NABL accreditation certificate. If you are looking NABL accreditation for MPI testing call us today.
MPI testing for aerospace needs is completely different approach in terms of procedures.  Aerospace NDT uses right procedure, machines and inspectors. Find more about aerospace Magnetic particle testing services.
Knowledge Corner - Learn Basics
This method works on working principle of 'magnetic flux leakage'. In other words, this method allows detect flux leakage due to flaws. Flux lines allowed to travel in ferro magnetic materials using various techniques cited above. If there are cracks or other flaws, flux lines breaks and leakage field exists. That is to say, if there is a leakage flux there could be a flaw. Apply Magnetic medium (dry or wet) while magnetizing so that medium forms an indication at the leakage area. Finally Interpret and dispose the material as per the MPI procedure. Sometimes demagnatization is the last step to remove residual magnetism.
Then, for which materials is magnetic particle testing is suitable? The method is most suitable for magnetizable materials such as Iron, Nickel and Cobalt alloys. In other words, any thing that passes magnetic flux lines.
For which material magnetic particle inspection is NOT suitable? Except the above stated alloys, it is not suitable non ferrous materials such as Al, Cu, Mg and austenitic stainless steels. Moreover, testing of ferritic and martensitic stainless steels is possible in MPI testing. But, testing not suitable for austenitic stainless steels.
It is rather simple to carry magnetic particle testing. Brief steps and procedure is below.
First, pre-clean the part
Dry and allow the part to cool
Introduce magnetic field
Apply dry or wet medium
Allow the particles to accumulate
Find the cause of indication, record,
Final step is demagnetizing
Post clean and apply rust preventive oil
Codes and Standards in Magnetic Particle Testing
There are various codes and standards in Magnetic particle testing. For example, ASTM, ISO, BS, EN, DIN and IS standards helps in developing NDT procedures for MPI inspection.
Following is the brief list of standards in magnetic particle testing:
ASTM E709 – Standard Guide for Magnetic particle testing
ASTM E1444 – standard practice for MPT used for Aerospace NDT applications.
AWS D1.1 and 1.3 for Structural Welds
ASTM A275 – Practice for Magnetic Particle Exam of Steel Forgings,
ASTM A456 – Specification for Magnetic Particle Examination of Large Crankshaft Forgings
Also NAL has released NDT specifications/procedures for Indian aerospace and defense
Comparision of Penetrant and Magnetic particle testing methods
Penetrant testing (PT) and magnetic particle testing(MPT) are two different NDT methods. Both are surface testing methods. Though PT detect purely surface flaws, MPT can detect both surface and subsurface flaws. PT testing is suitable for any material that is non-porous where as MPT is only suitable for ferromagnetic materials. That is to say, MPT is suitable for Iron, Nickel and Cobalt alloys. If you cannot magnetize a material you cannot do MPI testing. Penetrant inspection is time consuming and MPI testing is fast NDT method.
Also pre-cleaning is important in PT testing whereas it is NOT so important in MPT testing. Therefore, if the procedure allows, you can do testing on painted or coated parts as well. Both the methods are available in portable kits for site use. Stationery machines are suitable for mass production component testing for high accuracy.
Magnetic particle testing is common NDT method for materials testing in all major industries. This includes, crack testing of castings, forgings, plates, weld joints and lot more. Also, have uses in production of pressure vessels, ships, bridges etc.,. In addition, in-service MPI testing is a reliable for detecting cracks on rails, axles, earth-moving equipment, mill rolls, mining equipment and many more.
The flaws detectable include cracks, inclusions, pipe, laminations, bursts and flakes. They may be inherent in the raw materials, may result from welding and heat treatment. Also, they may occur in service from fatigue, corrosion or other causes.
MPI testing is very effective in detecting fatigue cracks during in-service inspection of power plants, cement plants, sugar plants, oil and gas pipelines. The components tested are gears, pinions, roller shafts, chain links etc.,
MPI testing can detect both surface and sub-surface flaws.
Can easily inspect parts with irregular shapes .
Pre-cleaning of components is not as critical as it is for some other inspection methods. However, most contaminants within a flaw will not hinder flaw detection. Hence, testing can be effective even if the component is not perfectly cleaned.
Fast NDT method and indications are visible directly on the surface
Painted objects also can be testing without removal of paints/coatings. However refer customer procedure before inspection.
Considered low cost compared to many other NDT methods
Is a very portable inspection method for site testing.
Finally, a very reliable testing method for detecting linear flaws.
Magnetic particle NDT method cannot detect internal flaws
Not suitable to inspect non-ferrous materials such as Al, Mg or most of stainless steels.
Inspection of large parts may require use of machines with special power. Therefore, power costs could be are very high
Some parts may require removal of coating or plating for good sensitivity.
Limited subsurface flaw detection. Under ideal conditions, maximum depth sensitivity is up to 0.6 inch.
Post demagnetization and Post cleaning, are often necessary.
Alignment between magnetic flux and defect is important. Cracks that are parallel to flux direction are not detectable.
Specialized magnetic particle inspection equipment for Aerospace NDT 
Modern high amperage MPT equipment up to 6000A AC, HWDC and FWDC current
Powerful MPI prod machines for field testing
Inspection of mass production components using coils, solenoids, central conductors
High intensity black light kits for fluorescent inspection
Technicians certifications include to MT Level I, II as per NAS410, ISO9712, ASNT SNT-TC-1A, IS:13805 of ISNT
Expert in house ASNT NDT Level III consultants. If you need MPI procedure preparation services in India, contact our NDT Level III team.
ASNT NDT Level III trainers for conducting NDT Level 1, 2 courses and training on Magnetic particle testing. Read more about Magnetic Particle Testing courses.
Capable to serve not only in and around Bangalore, but across India.
Sales of MPI yokes, prods, powders, carrier oils and consumables.
Training and Certification courses - Level I, II as per ASNT SNT TC 1A